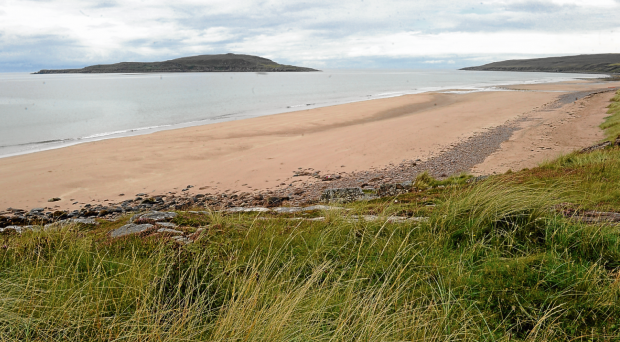 A six year-old boy who was pulled from the water at a beach in Wester Ross has been transferred to a specialist hospital in Edinburgh.
The boy, who has not been named, was airlifted to Raigmore Hospital initially after the incident near Sands Caravan and Camping a mile from the pier at Gairloch.
Coastguards said on Tuesday the youngster was conscious but appeared to be suffering from hypothermia.
A Police spokesman said: "Police in Wester Ross can confirm that a six year-old boy was rescued from the sea near Gairloch  on Tuesday afternoon.
"Emergency services were called to the scene at 3.58pm after receiving calls from members of the public. The child was initially airlifted to Raigmore Hospital in Inverness by the coastguard helicopter based in Stornoway.
"He has subsequently been transferred to the Royal Hospital for Sick Children in Edinburgh, where his condition is being assessed."
A Scottish Ambulance Service spokesperson said: "We received a call at 3.58pm on Tuesday, August 8, to attend an incident at Sands Caravan and Camping Park near Gairloch.
"We dispatched one ambulance and our helimed air ambulance to the scene.
"One male patient, aged six, travelled to Raigmore Hospital by coastguard helicopter accompanied by a paramedic."
A spokeswoman for the Maritime and Coastguard Agency said they were contacted by ambulance staff.
"We sent the Gairloch Coastguard rescue team as well as the Stornoway Coastguard search and rescue helicopter to the scene.
"The child had been pulled from the water and our helicopter took him to Raigmore Hospital in Inverness."
Local people were shocked when they heard the news.
A shopkeeper in Gairloch said: "I saw the helicopter land at the golf course, so I knew something had happened. I wasn't near the area so I didn't see anything and I didn't find out about it until yesterday.
Another local resident added: "We heard the ambulance and helicopter, then found out later that a child had been pulled from the water. I haven't heard what happened, but I hope the child is alright."
Inspector David Ogilvie said: "Our enquiries are at an early stage but there does not appear to be any suspicious circumstances.
"I would urge anybody with information which could help establish the circumstances of what happened to call us on 101, quoting reference NE11287/17."
A spokeswoman for Sands Caravan and Camping said: "I'm sorry, but we don't know anything about it."