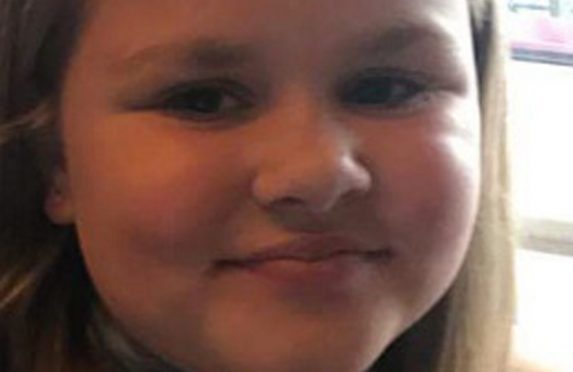 The family of a little girl killed in a horrific accident has thanked the local community for all of the love and support following the tragedy.
Eight-year-old Kayla MacDonald died after logs fell on top of her while she was walking on Beinn Lora near Oban with her grandfather and his 12-year-old daughter last month.
Family pay tribute to "precious, fun-loving" girl killed in log incident
Kayla lived in Dunbeg with her mum Karina MacPherson, dad Alastair (Ettie) MacDonald and two younger brothers Ruairidh and Ronnie.
A memorial service was held for her on August 1 at Oban Parish Church.
Yesterday a public notice from the family said: "Ettie and I would like to say a huge big thank you to everyone who has supported us in the exceptionally difficult days since the loss of our beautiful daughter Kayla.
"We would like to give a special mention to all of the emergency services who attended the tragic accident.
"Also Donna and Ian MacInnes and the staff at D&A Munn Ltd, who have shown exceptional care and compassion.
"We would also mention the parish church, Louis Barrow, Clare Jordan and the Rev J McCormick for the services both in Oban and Cardross.
"Also Amanda and the staff at the Argyllshire Gathering for the beautifully decorated hall, helpfulness and spread provided. Also the Print Shop, Angel, who briskly flew Kayla's family from Tiree to be with us, close friends and family who have come to support us in numerous ways, everyone who has taken time to send us messages, cards, flowers and very kind monetary donations, and Bossards Patisserie along with many, many others have shown such kindness during our darkest days.
"We are overwhelmed by the numbers who turned out to pay respects and join us in celebrating the life of our Princess Kayla. We would like to thank each and every one of you who travelled from near and far to be with us.
"The love and support you have shown to us both individually and as a community will always be appreciated and remembered by us in the challenging days ahead." Thousands of pounds was raised on a just giving page to help support the family get through this difficult time.
A joint investigation into the accident by police and the Health and Safety Executive is under way.