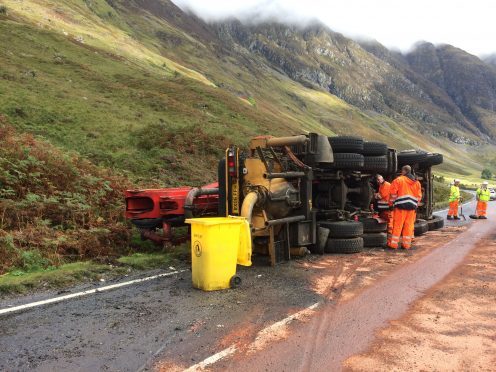 The driver of a lorry carrying a 38 tonne crane was taken to hospital after it overturned on the busy A82 in Glencoe yesterday and ended up on its side.
The road was closed for more than five hours as a result of the incident, but no other vehicle was involved.
Long lines of traffic queued in both directions until one lane was reopened temporarily to allow vehicles to pass.
But the road had to be closed again to allow the recovery vehicle to remove the huge crane from the road.
The accident happened just after 8am at Achtrioctan near the Clachaig junction.
A Police Scotland spokesman said: "We received a call at 8.03am on Friday morning that a crane had overturned on the A82 east of Glencoe village near Clachaig junction.
"The driver of the lorry received minor injuries and he was taken to hospital.
"The road had to be closed to allow the vehicle to be recovered and a diversion was put in place via the A85 and A828.
"We were able to open one lane to traffic around 11.30am, but had to close the road again shortly afterwards until the vehicle with the crane could be taken away by the recovery vehicle."
The road was reopened once more to single lane traffic – with temporary traffic lights in operation- just after 2pm.
A couple visiting the area warned other drivers about fuel on the road.
The female passenger, who didn't want to be named, said: "I didn't actually see the lorry overturn, but sand had to be put down on the road as there seems to have been quite a bit of fuel spillage.
"The crash barrier on the other side of the road seems to have been partially knocked down, but I don't know whether it was caused by this incident or not."
A fire service spokesman said that no appliances were called to the scene of the incident.
Another vehicle was also in trouble on the busy trunk road yesterday morning – just a couple of miles from where the crane lorry overturned.
A camper van ended up in a ditch opposite the entrance to the Glencoe Visitor Centre.
The Police Scotland spokesman added: "The incident happened at 10.17am and the van seems to have gone off the road and ended up in a ditch.
"There were no injuries and the vehicle is waiting to be recovered."