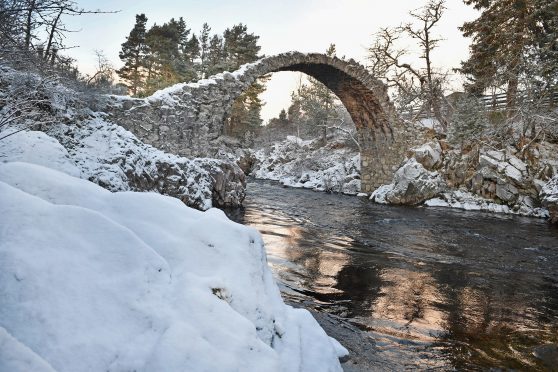 The 300th birthday celebrations for the bridge that gave Carrbridge its name will continue with an exhibition of local artists.
Whether its painting, photography, ceramics or textiles – both professional and amateur – anyone  is invited to apply to display their works at the event on October 21 and 22 in the Carrbridge Village Hall.
The only condition is that artworks must be inspired by Carrbridge or the surrounding area, whether that's the landscape, the weather, the people, wildlife or occupations and activities.
Organiser Karen Archer said: "We thought – as we approach November when the Old Bridge would have been completed 300 years ago – it would be nice to mark the occasion with a special art exhibition and we are keen to see as much local talent as possible on display.
"Works can be for sale, with a commission taken, or simply for show. And while we have a theme based around Carrbridge, it is a very loose theme and we are excited to see how artists interpret this."
The Bridge300 Art Exhibition is being supported by Carrbridge Community Council and Ewan Buxton Joinery, who have been commissioned to design and build new display boards which will provide a legacy for the village.
George Dyer, of the Carrbridge Community Council, said: "It's really important that we mark the Old Bridge's 300th birthday and following on from our special weekend of music and activities in May, we are happy to support, and are very much looking forward to the Bridge300 Art Exhibition."
The old packhorse bridge that spans the River Dulnain is sometimes referred to as the "Coffin Bridge" as it was built to be able to carry the dead to Duthil for burial when the river was in spate.
It was constructed in 1717 between May and November and is said to be the oldest stone bridge in the Highlands.