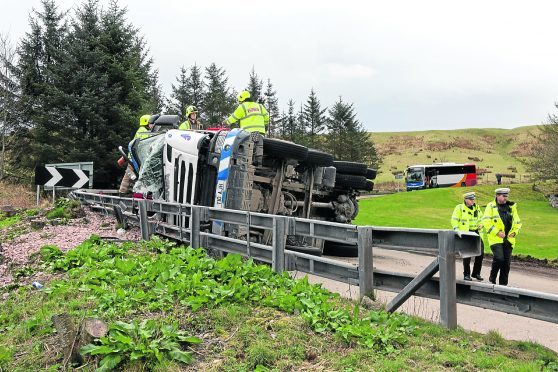 A lorry driver who crashed on the notorious Berriedale Braes in Caithness was fined and given three penalty points yesterday.
But a sheriff conceded to Scott Mcintosh that anyone "including myself" encountering the sharp bends for the first time would think "does this really exist?".
Sheriff Andrew Berry also described the braes as "not for the faint-hearted".
Macintosh, 28, crawled from his heavy goods vehicle unscathed after it lost braking power and overturned, Wick Sheriff Court heard yesterday.
The accident, which closed the A9 on April 13, occurred on the south brae. Macintosh was last in a northbound convoy of four lorries descending the brae – the first time he had negotiated the challenging stretch of road.
Fiscal Fraser Matheson told the court that the Grangemouth driver had passed an escape lane but failed to negotiate the left-hand bend at the foot of the brae and his vehicle toppled over onto its roof.
The fiscal said: "The A9 was closed for three hours and traffic lights were action for a week or two afterwards, to allow repairs to be carried out to a barrier."
Macintosh was taken to Caithness General Hospital but didn't require treatment.
Solicitor Sylvia MacLennan said that the lorry had suffered a brake failure, adding: "Essentially, there was insufficient braking power to slow the vehicle".
As a result of the accident, Macintosh lost his job but has since managed to find other employment driving the length of Britain.
Miss MacLennan commented: "My client has repeatedly stated that he was grateful no-one else was involved in the accident. He seems to take a pride in his work ethic and the standard of his driving."
Sheriff Andrew Berry sympathised with Macintosh saying: "I suspect that anyone including myself, encountering Berriedale Braes for the first time would think: 'Does this really exist?'"
The sheriff, who saw a number of 'glowing' references about Macintosh, said that while he had cause "considerable inconvenience" to other road users, he was a first offender and had accepted responsibility for his actions and had lost his job.
Macintosh, of Roxburgh Street, admitted a charge of careless driving. He was fined £265 and incurred three penalty points.
A radical re-routing of the braes has been approved.