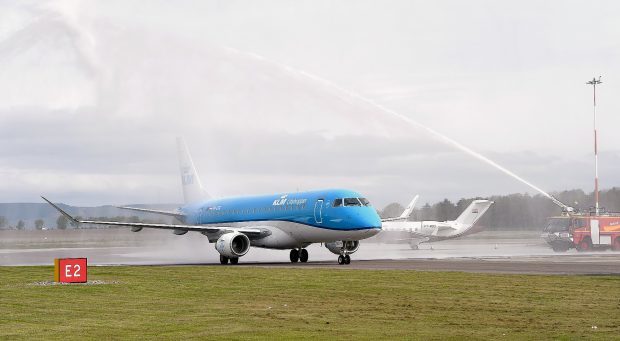 UK Government figures believe devolving tax powers to Highland Council could safeguard the region's vital discount on passenger flights.
The Press and Journal understands that the unusual move has been discussed behind the scenes at Westminster, although it would be up to the Scottish Government to pursue.
The future of tax-free flights from the north – which can save families and businesses hundreds of pounds on trips – faced uncertainty this week amid a legal wrangle.
A new Scottish tax on flights was due to come into force in April, but Finance Secretary Derek Mackay told Holyrood on Thursday that it could be delayed because an exemption enjoyed by the Highlands and islands since 2001 may not comply with EU law.
To try to resolve the issue, he has written to the UK Government asking it to pick up the £320million bill for maintaining the discount, claiming Westminster had "got us into this mess", but the UK Treasury said the SNP was trying to "pass the blame".
During the debate, Scottish Conservative MSP Bill Bowman asked if Mr Mackay had "considered devolving the tax to Highland Council", suggesting that such a move would not breach EU state aid rules.
It is understood the idea originated in Westminster, although the official position of the UK Government is that it is up to Scottish ministers to resolve the issue.
Responding to Mr Bowman on Thursday, Mr Mackay said: "That approach has not been put to us in a state that would appear to comply with state aid regulations and EU law.
"As with many other matters, we could consider that further, but there are a range of complexities in that and other propositions that may be put to us.
"If that is now the position of the UK Government, I do not believe that it would be compliant
"I have said that I will look seriously at any proposition that is put to the Scottish Government to deliver this power and this tax in a competent way."
Asked yesterday about the proposal, Mr Bowman said: "My point was to raise with the finance minister that all options should be considered.
"The issue he raised was that there might be a state aid issue because one area was treated differently from another in the UK.
"My suggestion was for him to explore devolving the tax to the local council and to look to see if he could find a way to make that work.
"We want to find a solution whereas the finance secretary only sees problems."