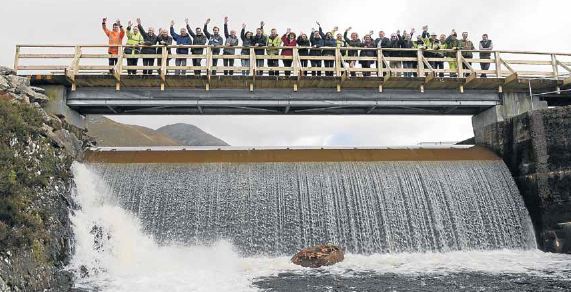 A new £14million hydro scheme in Lochaber is now up and running.
The latest project by Green Highland Renewables has been switched on in the hills above Kinlochleven.
There will also be a welcome cash boost for villagers as a result of the scheme at Loch Eilde Mor, with "a steady stream of income" being received by the community.
An open day to see the finished project was held attended by representatives of Kinlochleven community council, new landowner Jahama Highland Estates, as well as local residents.
Jahama is the property arm of GFG Alliance which bought the aluminium smelter in Fort William along with 120,000 acres of estate land including parts of Kinlochleven last year.
Alex Reading, development director at Green Highland Renewables, said:  "Hydro-electricity has been part of the history of Kinlochleven for more than a century and this new scheme is the latest chapter in this story.
"It has provided skilled employment during construction, and we'd like to thank the local community for their support since work began in early 2016.
"We are pleased the project will now offer a steady stream of income to this community in the years ahead."
Mr Reading added:  "The recent reduction in tariffs by the UK government means the economics of building new hydro schemes is increasingly challenging. However, we still believe there is scope for further projects in the Highlands, provided they are in the right location and are built with care."
The Loch Eilde Mor hydro project cost £13.6 million and a Kinlochleven Common Good Fund is now being established to distribute the £5,000 per MW annual community benefit from the scheme.
Fort William and Ardnamurchan councillor, Andrew Baxter – who lives in the village – was invited to do the honours and officially switch on the hydro power.
He said: "Over a century ago, Kinlochleven became the 'electric village' and we are rightly proud of that heritage. How appropriate that, so many years after those industrial pioneers established modern Kinlochleven, we are opening a new hydro scheme that will also benefit the community.
"I am delighted that Green Highland Renewables is providing the full community benefit recommended by Highland council. When established, this new fund will support events and projects throughout the village with priorities decided by villagers."
The company also submitted a planning application to Highland council last week to develop and operate a run-of-river hydro scheme at Allt Nathrach, north of Mamore Lodge in Kinlochleven.