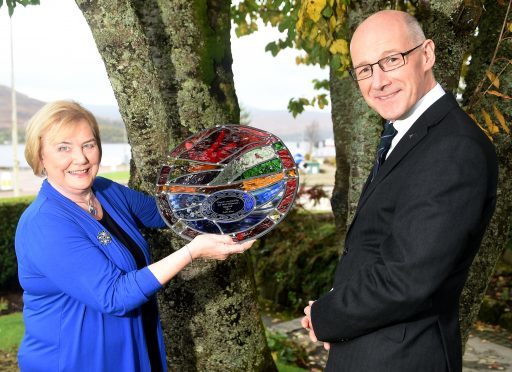 A talented singer and teacher from Mull, who was presented with the Gaelic Ambassador of the Year award yesterday, admitted she was "speechless" when she heard the news.
Janet MacDonald from Tobermory has championed the Gaelic cause all her life.
And she joked that she didn't know which was the more nerve-racking, receiving this prestigious award or singing when she won the gold medal at the Mòd in Inverness back in 1984.
Mrs MacDonald, 71, said: "I'm not often speechless, but I was when I heard about this award.
"I've spoken Gaelic since I was a child as my mother was a native speaker. But it wasn't the first language at home as my father was English. He came to Tobermory when he was in the navy during the war.
"I've been singing since I was around 12 years old and the first time I went to Glasgow was when I attended the Mòd there in 1958."
Mrs MacDonald, who went to Oban High School, graduated in Gaelic and Maths at Edinburgh University.
VIDEO: Torch procession lights up Fort William for Royal National Mòd
"At school, I was told: 'Don't chose Gaelic – you'd be better off with French and Latin', so I didn't study it there until sixth year.
"I taught both Gaelic and Maths in primary schools as well as in Oban and Tobermory High Schools. But Gaelic was always my first love."
The mother of four and grandmother of seven, has continued to teach after her retirement and works for Sabhal Mor Ostaig, the Gaelic college in Skye.
A member the group, 'Sound of Mull' in the 70s and 80s, Mrs MacDonald still sings with the Mull Choir. She is also heavily involved with running the local Mòd on the island, the Mull and Iona Gaelic Partnership and other initiatives.
Mrs MacDonald attended the presentation ceremony at the Lime Tree Gallery in Fort William with Archie, her husband of 49 years.
She received the award from Scotland's Deputy First Minister, John Swinney, who said: "I am pleased to present this to you for all the work you have done for the Gaelic community in Scotland."