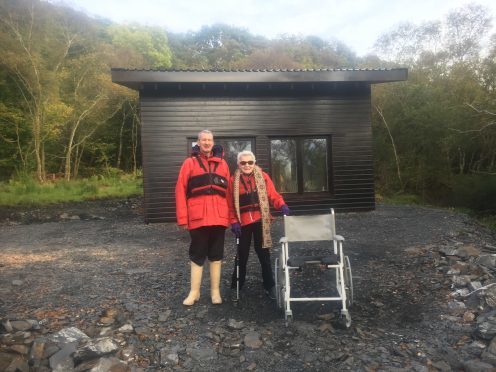 An Oban businessman who has built a hut near the famous Bridge over the Atlantic to take disabled people boating could be forced to tear it down.
Graham MacQueen, 65, a depute lieutenant for Argyll and Bute, uses the hut as a shelter for family and friends with disabilities while taking them for day trips in his specially-adapted boat.
The owner of MacQueen Bros Removals has applied to Argyll and Bute Council for retrospective planning permission.
Planners have recommended that councillors refuse the application when they meet next week, saying it has an adverse impact on a scenic area.
However, with 116 people writing in support of the hut and 17 objecting, a local hearing is likely to be held.
The hut is sited on a former slate quarry, Glenalbyn Quarry, half a mile north-east of the Atlantic Bridge at Clachan Seil, south of Oban.
Objectors say it is a "blatant and cynical corruption of the planning process" while supporters feel it is an "exceptional circumstance", does not have a significant environmental impact and blends into the landscape.
Mr MacQueen said: "I did make a mistake, I hold my hands up. I'm setting about correcting that. The last thing on earth I want to do is offend anyone.
"I took bad advice. I believed that a 30sq m building did not require planning permission. That is true within the confines of your own garden."
He described the hut as a "simple structure" and added: "I bought a specialist boat which means I can take people with various levels of disability in the boat. My wife, Morven, is a full-time wheelchair user. She has MS. It is very nice for her to escape from the confines of four walls and get to the outdoors in that beautiful place.
"My 86-year-old mother, Sadie, lives with us. She grew up on the isle of Seil and used to take me to play at the quarry as a child.
"I think people understand that all we want to do is spend some recreational time there. My mentally handicapped brother, Stuart, also lives with me.
"I have got quite a full household caring for different members of my family and being able to take them to a spot like this is quite unique. Going on holiday on an plane is not an option.
"I have had other friends there who have mobility problems.
"My wife can drive her wheelchair straight off the boat and onto the shore. The hut affords some shelter for her once there.
"I really can't understand why it offends anyone. That certainly was not my intention. I'm just sorry that some people find it offensive."
However, in the recommendation, council planners say the hut gives rise to "a significant adverse impact on the Knapdale/Melfort Area of Panoramic Quality," and there is no locational requirement for the development.
The recommendation before councillors states: "The setting of the development within the wider landscape constitutes a visually incongruous break within an extensive area of deciduous woodland. This results in a strident and alien geometrical built form representing an undesirable sporadic development within the countryside to the detriment of the existing undeveloped settlement pattern and to the unspoilt, undeveloped and largely natural character of the landscape."