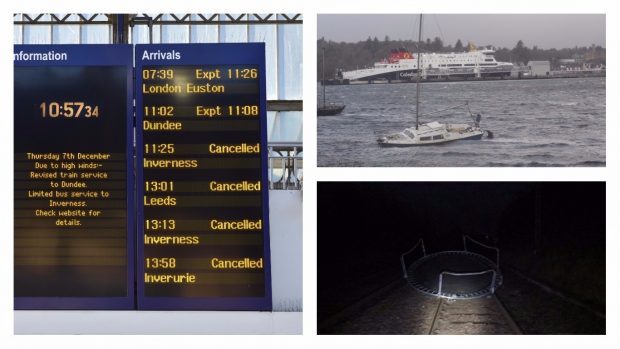 More than 50 schools have been closed and scores of ferries,trains and flights cancelled this morning as the region braces for Storm Caroline's arrival.
Severe flood warnings were issued last night while The Met Office announced an amber wind warning for the north-east, Moray, the northern Highlands, Orkney and Shetland.
Storm Caroline: Power cuts reported across north of Scotland
In Aberdeen, the city's Christmas Village on Broad Street was shut over fears that high winds of up to 90mph could pose a risk to the public. And the local authority has announced the HAAN market, due to open today, will not go ahead.
Travel operators warned of major disruption across the north, with Scotrail announcing a number of services would be suspended last night.
The latest reason for train delays: a trampoline on the line
Today commuters faced train, flight and ferry cancellations while hundreds of school pupils are at home today following a number of closures in the Highlands, islands and Aberdeenshire.
And in Aboyne, hundreds of homes and the local primary school were left with no power for several hours.
Dramatic picture shows moment waves batter broken-down school bus
Motorists struggled against strong winds and on the A947 a fallen tree caused disruption near King Edward, Banff.