Residents of a remote Highland village are furious that Tesco online deliveries stopped two months ago – at exactly the time a nearby community had a delivery service re-instated.
The change of fortunes for Altnaharra and Strathnaver in Sutherland has been highlighted by villagers.
Antonette Bakker, housekeeper of Altnaharra Estate, said: "I can't understand how we have stopped getting deliveries at the same time Strathnaver started getting them. It seems Tesco has simply replaced the service between the communities. It has been going on for weeks and must be costing Tesco a lot of money in custom, as we can spend around £600 on deliveries when we have guests."
Local Ann Mackay added: "Tesco had not been delivering groceries to the villagers of Strathnaver while vans were continuing on to Altnaharra and making deliveries to people who lived here.
"Following a story in the Press and Journal about this, Tesco decided to deliver to customers in Strathnaver. I was delighted to hear that, as it had never made sense to us that they should be denied the same service. Since that decision was made, we in Altnaharra have not had any deliveries.
"Several of us have phoned and e-mailed Tesco, only to be informed that it was a problem with their system and they were trying to sort it.
"This began approximately seven weeks ago. I have watched every day for a delivery slot to be made available and there have been none."
In a one-off, last week she had a call from Tesco offering a delivery slot – but was told she had to order for a collection from the Wick store, 55 miles away, then call the store to change it to a delivery.
She said: "I was able to verbally arrange a delivery for later in the day on Sunday, but I can't do it by computer. This was also just a one-off.
"I just cannot understand how, after all these weeks, the Altnaharra postcode has been off the system and a company the size of Tesco could not put that right.
"We feel that our service has been sacrificed for the sake of the deliveries to Strathnaver.
"It is such an important service to us here in Altnaharra – living in a remote village which has no shop at all."
A Tesco spokesman said: "Our deliveries are really busy over the festive period, so we are sorry to hear of anyone who is disappointed and unable to book a slot.
"Our delivery service covers a really large number of postcodes and we are doing everything we can to serve customers in the most rural parts of Scotland."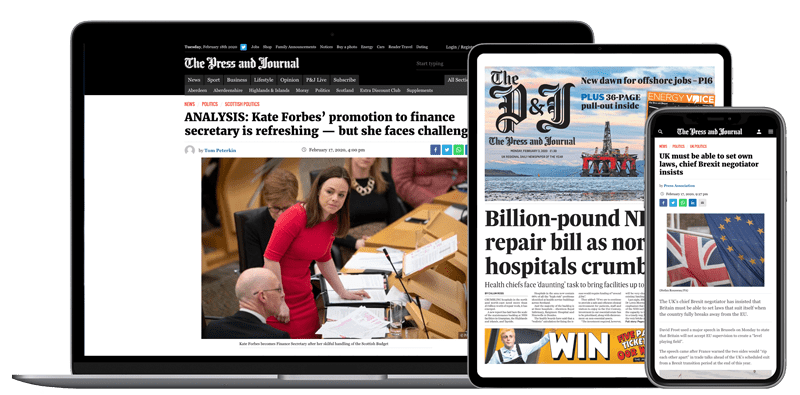 Help support quality local journalism … become a digital subscriber to The Press and Journal
For as little as £5.99 a month you can access all of our content, including Premium articles.
Subscribe