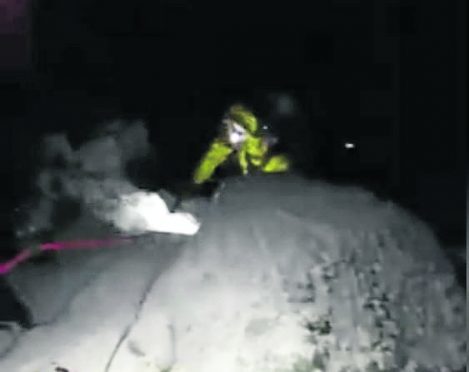 Two freezing climbers were rescued in darkness in the Cairngorms at the weekend after getting stuck on a mountain – without a rope.
The pair were cragfast 100ft from the top of a well-known 600ft climbing route for around five hours.
The two men, in their 40s and from England, were eventually rescued by Cairngorm Mountain Rescue Team with the help of the Inverness-based Coastguard search and rescue helicopter.
The couple were climbing Jacob's Ladder at Coire an t-Sneachda on Saturday when they became stuck in a narrow section.
Willie Anderson, Cairngorm MRT leader, said: "Because they did not have a rope, they had no means of getting off.
"The two climbers were soloing – climbing without ropes – Jacob's Ladder, a Grade 1 winter climb. Unfortunately, in thin conditions like now, the route is more like Grade 3, so the guys found themselves cragfast.
"They were in the narrowest section about 100ft from the top, but they just could not move. They had climbed Jacob's Ladder before and in normal winter conditions climbing without ropes is fine.
"But, in the current conditions, they would have been better prepared with having a rope.
"It was pretty rough conditions at first, with strong winds. The two guys were pretty cold. They had been stuck there for hours."
The men used a mobile phone to call for help, and 24 members of the team were called out at about 4pm.
Two members of the team were on ski patrol and went over the summit on skis to locate the pair, abseiled down about 100ft and made sure they were attached to a top rope.
Another couple of team members climbed up from below with technical equipment to help with the six-hour rescue.
The coastguard helicopter flew in 18 of the team with technical gear. Mr Anderson added: "The two cragfast climbers were experienced, but they were very cold when we got to them. They were obviously glad to see us. They had no choice but to be calm.
"The Coastguard rescue helicopter then took them to the Cairngorm Mountain ski centre, whose staff also need thanked for supporting the rescue."
The pair were otherwise safe and well.