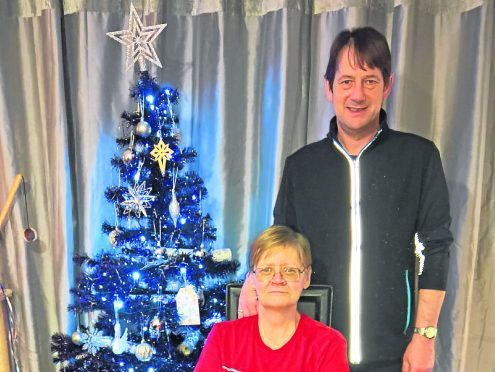 An Oban grandmother says she is "lucky to be alive" after being seriously injured in a hit-and-run in the United States.
Agnes MacKechnie was struck by a fast-moving pick up truck on Hallowe'en in the city of Bethlehem in Pensylvania and suffered internal injuries, fractures, broken teeth and was left with tyre marks across her stomach.
Doctors repaired a 3 inch rip in her heart and fitted a stent, and she needed a total of six operations and still needs a wheelchair to get around.
The 55-year-old, of Creag an Airm in Oban, had been visiting her brother James with her husband David – but ended up spending five weeks in hospital before flying home this month.
She said: "I am lucky to be alive and I am just glad to be home for Christmas.
"My husband has been fantastic and has been by my side in hospital and encouraged me to get up and walk. He has been looking after me since we got home and doing a lot of the cooking and washing. It will be a couple of months till I am 100% again."
Mrs MacKechnie was thrown 25 ft into the air and 25 yards along the road following the collision.
Her husband said that in the moments after the incident, the driver reversed to see his wife before racing away. The couple had just left a bar at the time and she was a foot ahead when the vehicle struck her on a corner.
Police have not found the person responsible but pictures taken of the vehicle on the night are still being shared on social media.
Mrs MacKechnie was unconscious for three days and spent three weeks in a trauma unit and another two weeks in rehab at St Luke's Hospital in Bethlehem.
She praised the medical staff at the hospital, as well as the staff of Boots the chemist in Oban, who organised emergency medication after their return on December 9.
She added: "My daughter came for a short visit and phoned every day and told me about all the well wishes. Everyone, from medical staff to family and friends with well wishes, have been absolutely fantastic."