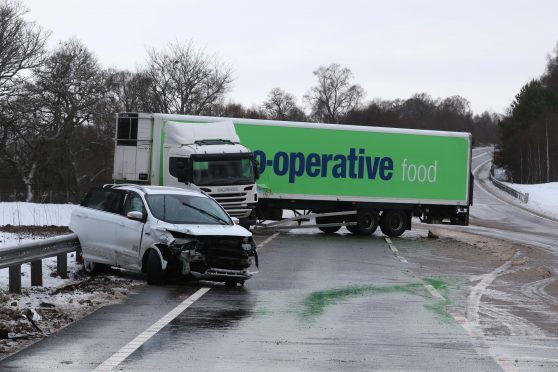 An Inverness family had a lucky escape following a crash with a lorry on the A9 – the third such collision involving a lorry to happen at Aviemore in less than three months.
The family of three from Inverness were left uninjured, but badly shaken, following the incident which involved their Ford Kuga and a Co-op lorry, just south of Aviemore on the single carriageway section heading southbound, at the weekend.
The four-door Kuga, owned by Inverness Property and Maintenance company AML Highland, sustained excessive damage in the crash which occurred due to poor weather conditions on Saturday.
Alex Macleod, director and owner of AML Highland Ltd, said his son, an employee of the family-run firm, was driving the vehicle at the time, along with his partner and young child.
Mr Macleod praised the emergency services for their quick response and is thankful his family remain unharmed.
He said: "It was my son in the car with his partner and young child. They are all fine but very shaken up. They were taken to the health centre in Aviemore but they were all fine. The cause of the accident was weather related.
"Credit to the emergency services, they were there in a flash."
Police received the call at 9.25am on Saturday following reports of a collision involving a car and a HGV at the end of the new dual carriageway, which left the southbound lane closed for several hours.
The carriageway was built as part of a £3billion A9 dualling programme aimed at upgrading 80 miles of road between Perth and Inverness.
This accident comes just over two months after a series of crashes near Aviemore last year.
On October 19, a 37 year-old man died following a collision between his car and a lorry on the road to Lynwilg, Aviemore, closing the road in both directions for some time.
Just three miles away, a similar incident occurred, leading to the death of a 58 year-old female driver after a crash involving a HGV and her car.