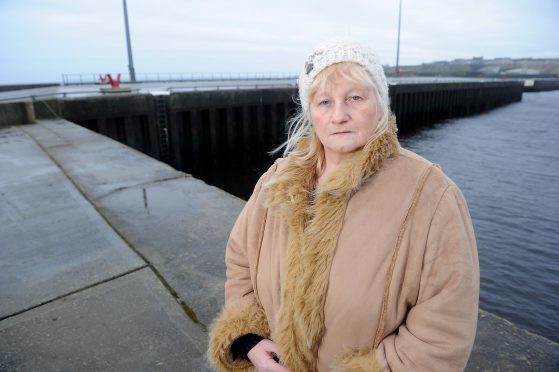 A Wick guest house owner has spoken of her shock at being the first on the scene after a car went into the town's harbour.
June Burns, 60, who runs the Seaview overlooking the south pier, said it was pure chance that she saw the aftermath of the incident from her kitchen window.
She arrived at the scene to find a man lying on the ground who had apparently escaped from his car and dragged himself out of the water.
The unidentified man, believed to be in his 30s, was admitted to Caithness General Hospital in a serious condition. It is understood he has since been transferred to Aberdeen for treatment.
Mrs Burns had just returned from walking her dog along the shore when she noticed something on the pier on Thursday.
She said: "I grabbed my binoculars and looked because there are that many people go in the water here, and I saw trainers."
Still shaken by the incident, Mrs Burns said she grabbed her jacket and phone and ran outside where she called friend Margaret over for help.
"I knew he had been in the water I pulled his hood back to feel for a pulse because he was blue-grey – it was a horrible thing to see.
"So I phoned 999 and said 'look, I need an ambulance, he's been in the sea, he's on the north pier get an ambulance here immediately."
The man was having such a violent shaking fit that Mrs Burns asked her friend to put her foot under his head.
"I had my hand on him and he just opened his eyes and stared at me and started thrashing about and he grabbed me, it was so tight it was like a death grip.
"I think he still thought he was in the water, he was totally in shock, it was awful."
One of the worst things for Mrs Burns was the wait for the ambulance which she said "seemed like it went on forever and ever."
She added: "I looked over the water and I saw some debris, there was a coat like a workman's coat, and debris like what you'd have in the back of a car."
After the incident, it took some time to establish whether anyone else was in the car. But by yesterday lunchtime, it had been established that the man was alone and his car was lifted out of the water,
Police are investigating and have appealed for anyone who saw a white Ford Fiesta in the area of the pier at the time of the incident.