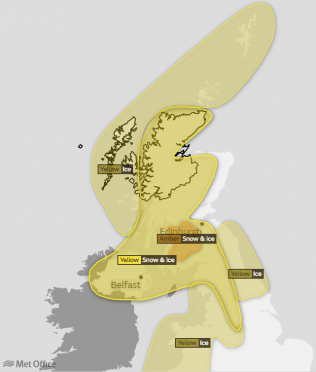 Fresh weather warnings have been issued for the weekend as several schools remained closed today because of icy conditions.
The Met Office has issued a warning for ice tomorrow which covers all of Scotland apart from the north-east.
It has also issued a warning for snow and ice on Sunday which covers large parts of the Highlands and Aberdeenshire.
A total of 40 schools and nurseries are closed in the Highlands today while some pupils in Orkney will miss classes after Stagecoach announced it won't be running any school transport.
19/1/18
Stagecoach have just confirmed that due to the icy conditions they will not be operating any school transport routes today.

— Orkney Council (@OrkneyCouncil) January 19, 2018
Milder conditions are forecast for next week.
The north and north-east is avoiding the worst of the conditions this morning as an amber warning for snow is causing major disruption in the central belt.
There are hazardous driving conditions however around the Glencoe area, police have said.
Heavy snowfall and hazardous driving conditions Tyndrum, Glencoe areas #A85 #A82. @westcoastbuses @obantimes @obanfm103 @trafficscotland @BBCTravelScot

— ObanPolice (@ObanPol) January 19, 2018
Superintendent Louise Blakelock, of Police Scotland's road policing unit, said: "For the duration of the updated amber warning, there is a high risk of disruption for road journeys and there is a high likelihood of the conditions for travel being very poor.
"Those heading out on the roads should be aware of these risks – ensure you have a fully charged phone, warm clothing, and leave extra time for your journey."
Burghead Primary remains closed due to a breakout of gastrointestinal illness but no other schools in the north and north-east are currently closed.
Highland school closures (as of 11.45am)
Acharacle Primary:  Closed (bad weather)
Ardgour Primary:  Closed (bad weather)
Ardgour Primary Nursery:  Closed (bad weather)
Auchtertyre Primary:  Closed (bad weather)
Auchtertyre Primary Nursery:  Closed (bad weather)
Banavie Primary:  Closed (bad weather)
Banavie Primary Nursery:  Closed (bad weather)
Bun-Sgoil Shlèite:  Partially closed – closed in the afternoon (severe road conditions)
Carbost Primary:  Closed (severe road conditions)
Carbost Primary Nursery:  Closed (severe road conditions)
Dunvegan Nursery – GM:  Closed (severe road conditions)
Dunvegan Primary:  Closed (severe road conditions)
Elgol Primary:  Closed (bad weather)
Farr High School:  Closed (bad weather)
Farr Primary (Suth):  Partially closed – no school transport (bad weather)
Farr Primary Nursery (Suth):  Partially closed – no school transport (bad weather)
Foyers Primary:  Closed (severe road conditions)
Gergask Primary:  Closed (bad weather)
Gergask Primary Nursery:  Closed (bad weather)
Invergarry Primary:  Closed (bad weather)
Invergarry Primary Nursery:  Closed (bad weather)
Kilchuimen Academy:  Closed (bad weather)
Kilchuimen Primary:  Closed (bad weather)
Kilchuimen Primary Nursery:  Closed (bad weather)
Kilmuir Primary:  Partially closed – closed in the afternoon (severe road conditions)
Kingussie High School:  Closed (bad weather)
Kinlochleven Primary:  Partially closed – closed in the afternoon (bad weather)
Loch Duich Primary:  Closed (bad weather)
Lochcarron Primary:  Closed (bad weather)
Melvich Primary:  Partially closed – no school transport (bad weather)
Melvich Primary Nursery:  Partially closed – no school transport (bad weather)
Newtonmore Nursery – EM:  Closed (bad weather)
Newtonmore Nursery – GM:  Closed (bad weather)
Newtonmore Primary:  Closed (bad weather)
Plockton High School:  Closed (bad weather)
Plockton Nursery – GM:  Closed (bad weather)
Plockton Primary:  Closed (bad weather)
Spean Bridge Primary:  Closed (bad weather)
Spean Bridge Primary Nursery:  Closed (bad weather)
Tongue Primary:  Partially closed – no school transport (bad weather)