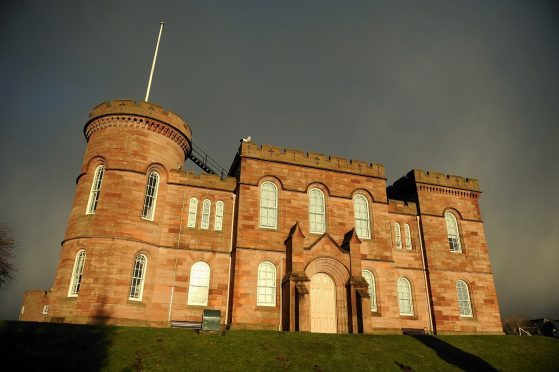 Here are nine stories from Inverness Sheriff Court you may have missed this week.
1) Police found indecent material at Highland man's home after tip-off
Police raided a Grantown man's home after a tip-off and found child pornography and bestiality videos on his computer equipment, Inverness Sheriff Court heard yesterday.
Kevin Chalmers, 40, of Macgregor Avenue, admitted two charges of possessing indecent material.
He had sentence deferred until February 16 for a background report and a risk assessment.
He was also placed on the Sex Offender's Register and had his bail continued.
The court was told there were 67 videos involving children, 53 of which were the most obscene level.
Fiscal depute Roderick Urquhart said 30 videos of people and animals were also discovered.
All, he said, had been downloaded between January 2006 and January 2012 before Chalmers moved to Scotland.
Sheriff Gordon Fleetwood warned Chalmers that he may be jailed, saying: "All options are open to the court."
2) Inverness man faces assault to severe injury charge
A 38-year-old Inverness man appeared in private at the city sheriff court yesterday on a charge of assault to severe injury and permanent disfigurement.
Stewart Rattray was also charged with possession of a bladed weapon.
He made no plea, was committed for further examination and remanded in custody.
3) Highland man appears in court on drug charges
A 30 year old Dingwall man appeared in private at Inverness Sheriff Court yesterday on drugs charges.
Damian Krol made no plea, was committed for further examination and released on bail.
4) Motorist led police on chase through Inverness
A city motorist who was pursued by three police cars through the city was given a chance to stay out of jail yesterday.
Inverness Sheriff Court was told that 26-year-old Nathan Thomson, of Upper Kessock Street, still had over 160 hours of unpaid community work to complete as punishment for other previous offences.
But Sheriff Margaret Neilson told defence solicitor Neil Wilson that if she didn't jail Thomson, she was going to impose a high level of unpaid work hours instead.
By law, a maximum of 300 hours can be imposed.
So Sheriff Neilson deferred sentence until May 31 for Thomson to complete his remaining hours. He was disqualified from driving in the interim and the sheriff called for an updated background report.
Thomson had admitted driving without insurance and driving dangerously through the Longman Industrial Estate to the harbour on February 17 .
Police began to follow him on Millburn Road after he did a U-turn and sped away from them.
He travelled at speeds of up to 50mph in 30mph zones, having to brake sharply as he took various roundabouts.
He also narrowly missed a heavy goods vehicle as it emerged on to Shore Road, where he was eventually stopped after two more police cars joined the chase, the court was told.
5) Inverness man held knife behind his back as he confronted aggressor
An Inverness man grabbed a kitchen cutlery knife after being threatened by another man near his city centre homeless accommodation, Inverness Sheriff Court heard yesterday.
James Hampton, of Mackintosh Road, was filmed on CCTV in Baron Taylor's Street, near his then flat in Grant's Close, holding the knife behind his back as he confronted his aggressor.
Fiscal depute Roderick Urquhart told Sheriff Gordon Fleetwood that the cameras captured the other man opening a wheelie bin and taking a bottle out.
He said: "He is then seen kicking into Grant's Close but the cameras don't show who or what it was he was kicking. The bottle is also thrown into Grant's Close.
"James Hampton arrives in view of the CCTV carrying a knife behind his back. It was an article of kitchen cutlery. The police were alerted."
Hampton, 32, admitted conducting himself in a disorderly manner on February 22 last year by holding a knife when intoxicated and challenging a person to fight.
Defence solicitor advocate Shahid Latif asked Sheriff Fleetwood not to jail his client and instead impose a fine. He explained that at the time, Hampton sought solace in alcohol after a relationship break-up.
He added: "The other male was equally culpable and it was him who was ushered away by two females who came on to the scene."
However the Sheriff said: "It may well be that a monetary penalty will be the final outcome. But having got yourself into bother – although you may not have started it – you went to get a knife.
"It was not a sharp one but I have to treat that seriously."
Hampton will re-appear for sentence on February 16 after a background report has been prepared.
6) Man jumped out of window when police arrived with search warrant
A 21-year-old Liverpool man tried to escape from police who raided an Inverness house that was under surveillance in a drugs operation, Inverness Sheriff Court heard yesterday.
Cory Gibson, of Wellington Avenue, was caught by officers after a three-minute chase through the Merkinch area of the city.
Fiscal depute Roderick Urquhart told Sheriff Gordon Fleetwood that Gibson had jumped out of a window of a house in Nelson Street when police arrived with a search warrant.
He then vaulted over fences and walls in his bid to avoid arrest, throwing away bags of wraps, Mr Urquhart added.
When he was detained, police also found a shoulder bag containing £92 in cash and more wraps.
In total, cocaine and heroin worth up to £6,600 was recovered. Gibson admitted being concerned in the supply of the drugs.
Sentence was deferred for a background report until February 16 and Gibson was remanded in custody.
7) Unpaid community work for joiner who supplied cannabis
A Boat of Garten joiner who was supplying cannabis to his friends to fund his own habit was ordered to carry out 125 hours of unpaid community work at Inverness Sheriff Court yesterday.
Alistair Cooper of Strathspey Park, had earlier admitted being concerned in the supply of the drug between November 30 and December 6.
Defence solicitor Clare Russell said the 22-year-old had stopped taking the drug.
"This has been a salutary lesson for him." she added.
8) Police officer required dental treatment after attack
A 28-year-old drug addict who assaulted police officers after being arrested for two separate shoplifting offences was jailed for 10 months yesterday.
Lauren Cowe, of Lower Kessock Street, Inverness, had previously admitted stealing £71 worth of meat from Marks and Spencer's store in Inverness on September 22.
When she was apprehended in Rose Street Car Park she kicked out at police, breaking an officer's tooth, Inverness Sheriff Court heard.
Fiscal depute Robert Weir said the officer required dental treatment for the injury.
Cowe also pleaded guilty to stealing £338 worth of alcohol from the Aldi store in Inches on December 4.
Mr Weir said that she dug her nails into one of the officer's hands and punctured the skin when she was arrested.
Sentence had been deferred for a background report but Sheriff Margaret Neilson was told Cowe had refused to co-operate with social workers.
The sheriff told defence solicitor Rory Gowans: "If she had told you she was not wanting a report done, it would have saved people's time and public money. Looking at her record, she has wasted her life."
Mr Gowans said: "She has been heroin addicted since she was 15 and has lost everything including the support of her family. But she is still a young woman and could still turn her life around.
"It is such a pity. But she plans to move from Inverness on her release from custody away from her negative peer group and make a fresh start."
9) Man sent menacing text messages to member of his mosque after London Bridge attack
A former soldier and Muslim convert who threatened to kill "unbelievers" should have mental health treatment, a Sheriff has ruled.
Alexander Tiffin appeared for sentence at Inverness Sheriff Court yesterday after pleading guilty last year to behaving in a threatening manner and sparking a major terrorist alert.
Tiffin, who had been to Saudi Arabia and Turkey before his drunken rant, sent menacing text messages to a member of his mosque five days after the London Bridge attack in June last year.
The man was so concerned he informed the police, but after a thorough police investigation the conclusion was that Tiffin was not a terrorist – but "an idiot".
When he appeared in court last year, Tiffin had sentence deferred for good behaviour and an up to date background report.
Fiscal depute Fraser Matheson confirmed to Sheriff Margaret Neilson that Tiffin had not been in any further trouble since the deferral.
Tiffin's solicitor Roger Webb said social workers assessed the 30 year old as not posing a risk of causing anyone serious harm.
But he added that his client had seen a mental health specialist and he should be referred for a treatment programme that starts in October.
Mr Webb has previously told the court that there was no evidence that Tiffin of Kilmuir Place, Invergordon, had been radicalised.
He explained: "He told officers he was stupid and apologises to the court, the police and the mosque."
Fiscal depute Roderick Urquhart previously said that a congregation member had received several texts from Tiffin's mobile.
He added: "The third said, "I decided to kill the unbelievables", followed by a text simply stating, "Unbelievers" and another saying, "Allahu Akbar"."
Tiffin told officers he could see why it had would cause so much concern, but claimed to have no memory of having sent it.
Mr Urquhart then said that the conclusion of his senior colleagues who had discussed Tiffin with police was "that he was an idiot, not a terrorist."
Tiffin will re-appear on July 26.