Hopes were fading last night for a missing hillwalker who searchers believe was caught up in a 1,600ft avalanche on the UK's highest mountain.
Lochaber Mountain Rescue Team leader, John Stevenson, said the man had been seen to fall through a collapsing cornice – overhanging snow build up – on Ben Nevis.
For the second day there was no sign of the man – believed to be in his 20s – despite searchers looking for eight hours in "terrible conditions".
The missing man is one of a party of three climbers. The other two were rescued on Sunday night near the summit of the 4,411-ft high mountain after rescue team members were airlifted there by the Inverness-based coastguard helicopter.
Mr Stevenson said his team yesterday waded through "waist deep" snow in search of the missing hill walker, adding: "The conditions were as bad as I've known them. They were absolutely terrible – they couldn't have been worse.
"The guy was seen to either fall through a cornice – or it collapsed under him – into Observatory Gully.
"There has been a big avalanche there – a massive avalanche – and we cannot get into the gully to search for him because it is simply too dangerous. The risk of avalanche is too great to put the lives of my team in danger.
"But he has fallen over 500 metres (1,640 feet). They were all well equipped and from overseas. An interpreter has been used to find out some information from the other two."
"We had 12 members out today and 10 on Sunday. The snowpack is getting wet and there is a huge risk of avalanche. We searched as best we could in the worst conditions you can imagine. But where he has gone is a huge drop. It doesn't look good for him, I'm afraid."
Mr Stevenson added that he is not prepared to put any members out there in the current conditions, but will have another review today to assess the possibility of resuming the search.
The two rescued climbers raised the alarm at about 3.30pm on Sunday after getting into difficulties.
The search comes after two ski tourers spent the night in freezing conditions without shelter at 3,000ft in the Glencoe mountains.
The pair had called police on Friday evening to report that they were stuck "in a precarious position" on 3,770ft Bidean nam Bian, where temperatures plummeted to at least -15C.
Sixteen members of Glencoe Mountain Rescue Team battled in blizzards for 10 hours but were unable to reach them because of the white-out conditions.
After spending the night exposed to the elements, the pair were spotted by the Inverness-based Coastguard helicopter, which winched them to safety at about 8.30am on Saturday.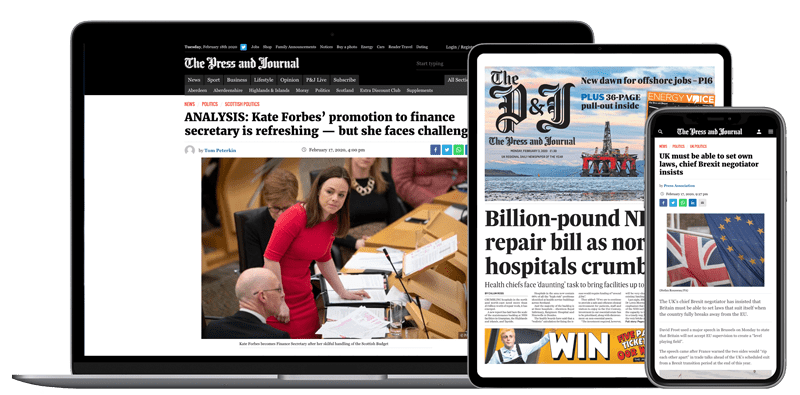 Help support quality local journalism … become a digital subscriber to The Press and Journal
For as little as £5.99 a month you can access all of our content, including Premium articles.
Subscribe