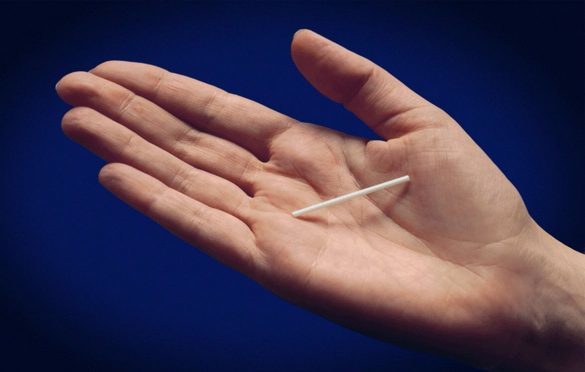 Girls as young as 13 in the Highlands are being given the contraceptive implant, it has emerged.
Figures show that 31 under-16s had the implant put under the skin of their arm – effective for up to three years to prevent pregnancy – in 2016 and 2017.
Nearly 200 underwent the procedure in the last five years.
NHS Highland said a small number were under 14 – but could not specify a number for fear of compromising patient confidentiality.
Another 597 girls under the legal age of sexual consent were given daily contraceptive pills last year, including 16 12-year-olds and 58 aged 13.
In the last five years, 2,869 girls in the north aged 15 and under were given the pill.
Doctors and family planning groups said it is essential that adolescents have access to free contraception and sexual health advice when they become sexually active.
But campaigners warned that although the availability of contraception to under 16s is helping to cut underage pregnancy rates, sexually transmitted infections are on the rise as teens feel more inclined to dispense with condoms.
Norman Wells, of the Family Education Trust, said providing contraception to under 16s sends out "all the wrong messages" and exposes them to "all kinds of dangers."
He added: "Not only is there the danger of contracting a sexually transmitted infection that could have serious long-term consequences, but they are also at risk of emotional harm, and, even more seriously, of abuse and exploitation. The evidence is now overwhelming that giving young teenagers contraception so that they can have illegal sex makes it easier for predatory men to exploit them.
"A thorough review of the unintended consequences of confidential sexual health services is long overdue."
Mark Bhagwandin, senior education officer for educational charity Life, said: "Giving 13-year-olds contraceptives gives them a false sense of security that they are safe. It's breaching the spirit of the law as they (health professionals) should not be encouraging sexual activity underage. They should instead be teaching young people about delaying sexual activity until they are in a long term relationship. The school curriculum also needs to ensure it gives this strong relationship education."
Mr Bhagwandin added that patient confidentiality rules also mean contraceptives can be given without parental consent, moving responsibility away from parents and into the hands of the state.
But a spokeswoman for NHS Highland stressed that many girls under 16 will attend with a parent or legal guardian and will have a child sexual exploitation assessment as part of the local child protection policy.
She said that prescriptions of contraception to under 16s will be undertaken within strict medical and legal guidelines to ensure competency and awareness of the child, and to encourage them to seek seek family support.
And the spokeswoman highlighted that girls can be prescribed hormonal contraception for problems such as menstrual bleeding. However, recent national studies have shown that as many as 15% of girls under 16 are sexually active – and many will be on contraception.
Family Planning Association chief executive Natika Halil said it is "vital" that young teenagers can access contraception and emergency contraception if they need it, adding: "In the UK, the average age of first sex is 16, but some young people will have sex earlier than this. Taking away access to contraception won't prevent young people from having sex, it simply makes it harder for them to make the responsible choice to protect their health and avoid unwanted pregnancies and sexually transmitted infections, and harder for them to get the help they need if they are being groomed or exploited in any way.
"Health professionals work within clear guidelines and will always make sure that a young person understands the decision before prescribing them any contraception."
Dr Peter Bennie, chairman of the British Medical Association Scotland, said: "Long-acting reversible methods of contraception are effective in reducing unintended pregnancy and are offered to those young women considered at risk of unintended pregnancy.
"Prevalence of reporting STIs is higher among those whose main source of information about sex is from friends, rather than from health professionals or sex and relationship education. "Addressing Scotland's comparatively poor record of sex education in schools and ensuring that such education takes place before young people become sexually active would better help to prevent the spread of STIs."
A Scottish Government spokeswoman said they encourage all young people to delay sexual activity until they area ready and to practice safer sex when they become sexually active.
The latest figures for the Highlands were provided under freedom of information laws.
Highlands and Islands MSP Rhoda Grant (Labour) said: "It is concerning that young girls are receiving contraceptive implants, but we must remember that these can be fitted for medical problems as well as contraception.
"I believe it is important that young people can access contraception in order to cut unwanted pregnancies.  However, I would hope that this is being prescribed alongside support. Children asking for contraception should raise concerns and trigger medical professionals to examine the reasons that they require this, to ensure that they are not coming under pressure to enter into early sexual relationship.
"The need for contraception can also indicate abuse and where this occurs steps must be  taken to protect young people.  This subject has to be handled sensitively to gain and retain the confidence of the young person in order to protect them."
Highland MSP Edward Mountain (Scottish Conservatives) said: "We need to use care when we look at these figures as prescribing contraception to children under the age of 16 can be for a variety of reasons, not solely linked to sexual activity.
"Where the later is the case, and the child is clearly below the age of consent, the importance of a parent or guardian being involved in making this decision cannot be understated."
Teen pregnancy rates falling – but STI prevalence increasing among youth
The latest official figures show that underage teen pregnancy rates (pregnancies per 1,000 women) in Scotland dropped by 61% between 2007 and 2015, with a 52.1% decrease for under 18s.
Pregnancies for all women aged below 20 in the Highland Council area fell from 401 in 2007 to 202 in 2015. Most other similar sized council areas recorded big drops over the same time frame.
In Aberdeen, pregnancies fell from 408 in 2007 to 199, while in Aberdeenshire the drop was 281 to 148. In Dundee – which has the highest teen pregnancy rate in Scotland – the numbers fell from 433 to 242.
In the NHS Highland board area, there were 54 under 18s who gave birth in 2015, but figures for under 16s were unavailable as numbers were below the threshold for patient identity.
But cases of STIs have soared among the general population since 2009, according to figures published by the Scottish Government in September.
Across the nation, there were 1,021 cases of gonorrhea in 2009 which rose to 2,363 in 2016. Syphilis cases rose from 190 to 356 over the same time frame. Overall, figures for chlamydia were slightly down since 2009 but there was a small annual increase to 15,147 cases in 2016.
In Highland, there were 1,730 cases of chlamydia recorded between 2014 and 2016. There were 635 cases in 2016 compared to 693 cases in 2008. But in 2008 there were just eight cases of gonorrhea recorded in the Highlands –  this has risen to 51 cases in 2016.
The report states that, for those aged under 25, rates of STI diagnoses per 100,000 population are much higher than for the overall diagnosed population.