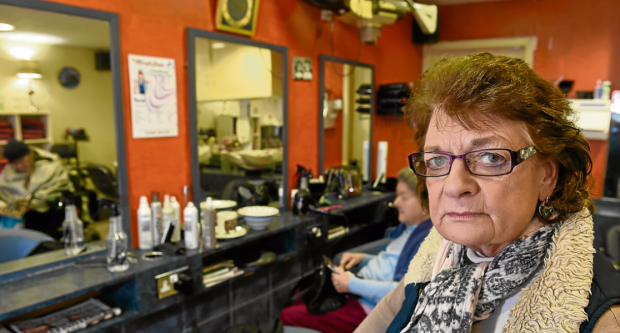 A north hairdresser has told of her devastation after thieves smashed their way into her salon and stole almost £1,000.
Gwynneth Wright, owner of The Wright Style on King Street, Kingussie, lost her takings following a break-in at the property – the first in her 33 years of business.
Mrs Wright feels she was being watched as the robbers easily accessed the till on entry to the building.
She spoke about the events which led up to break in in the early hours of Saturday morning.
She said:  "I arrived at 6.30am and dialled 999. They had smashed the back window with a large boulder and there were sharp pieces of glass all the way round the frame. They took all the takings and then opened the till and took the float. On the end of day till roll it gives you a date and a time and it was 3.34am on Saturday."
Despite always feeling her business was a safe place, Mrs Wright is now left with a dilemma surrounding the safest place to keep her business's income.
She added: "It was sheer stupidity. Never in 33 years have I been burgled. I am absolutely devastated.
"I never ever take cash home as I usually lock it in the salon. I could get knocked over the head going down the street. You go round thinking how safe we are and the place we live in. I should take money home but I don't want to be seen walking down the street with money. I thought it was safe in the Salon."
Inquiries are still on-going by police to find the culprits of the break in.
Detective Constable Ross Cooper said: "Our inquiries are on-going and I would urge anybody who noticed anyone acting suspiciously on King Street in Kingussie or the surrounding area to let us know.
"We are particularly keen to speak to anyone who was on Kingussie High Street between 1am and 3am to come forward as you may have details which could help our investigation.
"You can pass information to police in Aviemore on 101 or call Crimestoppers on 0800 555 111."