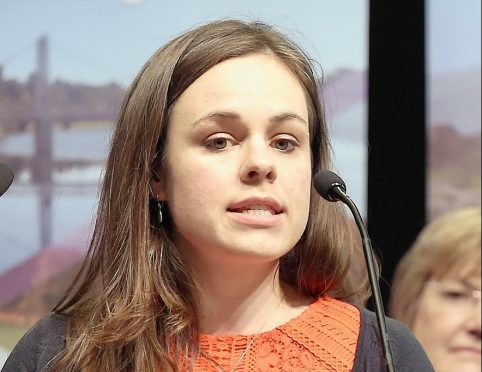 A north MSP has welcomed radical proposals aimed at reversing the impact of the Highland Clearances in many forgotten communities.
Kate Forbes spoke about how her own ancestors were cleared from fertile land during the tragic events of the 18th and 19th centuries.
And the SNP MSP for Skye, Lochaber and Badenoch said she would "love to see policies which are built round the importance of repopulation and resettlement of empty glens".
Her remarks follow last week's call by Community Land Scotland (CLS) for the Scottish Government to amend its Planning Bill to set a new goal of repopulating townships which were wiped out to make way for sheep and sporting estates.
Radical bid to revive heritage lost by the Highland clearances
The group, which represents the nation's community landowners, said an official map should be produced of  "no-longer-existing communities" to be considered as part of planning decisions, and to act as a "counter-balance" to the existing Wild Land Map.
And CLS suggested giving ministers and councils compulsory purchase powers to pave the way for resettlements, including enabling nearby communities to exercise the right-to-buy land to deliver the same goal.
Last night, Ms Forbes said: "The current planning system has a lot to answer for in terms of restricting rural regeneration.
"One of my hopes is that the new Planning Bill will actively transform rural communities, by giving them more of a say, by reducing the burdens of planning applications and by making planning more proactive.
"I would love to see policies which are built round the importance of repopulation and resettlement of empty glens.
"I have previously argued for more incentives to turn old, decrepit buildings into homes across rural Scotland as we all know of run-down, abandoned buildings which have been neglected for too long."
She added: "I like the suggestion by Community Land Scotland that land which has been and abandoned is once again full.
"My own ancestors were cleared off fertile soil on the Applecross peninsula and left to make a living on the barren coastline. These communities are now essentially empty.
"Whilst the Highlands has seem something of a population revolution in the last 15 years with many people choosing to move to the Highlands, we still need to do more to attract skilled people to the Highlands – particularly those who left as youngsters to learn or train and would love to come back but can't.
"There aren't enough affordable homes, and the cost of land plays a big role in that. so, anything that reduces the cost and increases the availability of land should be welcomed."