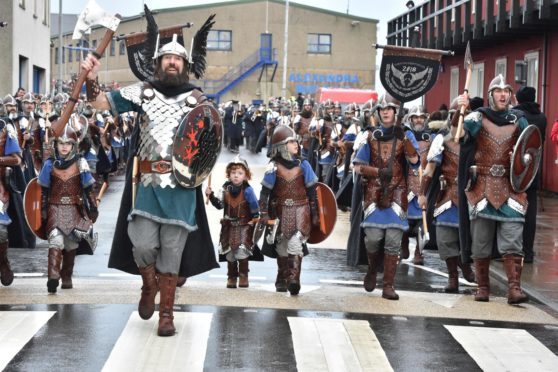 Speculation has spread that the junior event, which sees secondary two boys form a Viking jarl squad, will alter to allow females to participate.
The secretary of the junior Up Helly Aa committee in Shetland has denied rumours that a decision has been made to let girls to take part in the event next year – but he confirmed the matter will be discussed at the committee's next meeting.
Secretary Victor Sandison said the committee is aware of an appetite for change within some quarters of the local community.
The date for the committee's next meeting has not been set but it is hoped it will take place "before long".
"The reality is at the moment the junior committee is yet to have a meeting following the junior festival this year, and at this time there's no decision been made about the future of the junior festival and any change from that," Sandison said.
"But clearly it's something that we will be speaking about at our meeting."
VIDEO: Watch the burning of the galley as Vikings march through Shetland during Up Helly Aa
In the junior Up Helly Aa, a jarl is selected by his peers from Lerwick's Anderson High School to form a squad of no more than 15 boys.
All primary seven boys in Lerwick, as well as males in secondary one and two, are then asked if they want to create squads and march in the junior procession.
The event, which has been running since 1956 and is held on the same day as the senior Up Helly Aa on the last Tuesday in January, has been criticised by some for not promoting equal opportunities by keeping girls out of the squads.
Sandison added that he could not speak on behalf of the committee on the issue but he said "on a personal level, yes I do understand [the desire for change]."
But he said if the committee did decide to allow girls to take part, "we would need to speak to the organisers of the senior event, because we can't deliver junior Up Helly Aa without their support."
Sandison said it's a topic which "always comes up" in the junior committee meetings.
"We are aware that there are people within the wider community that would like to see junior Up Helly Aa and indeed Up Helly Aa reform to include women and young lasses, so it's something that we as the junior committee always do consider."
The committee issued a statement on Facebook last month following social media speculation that Anderson High School would not allow the junior squad into the building over the issue of equality.
The junior squad visited the school – which is independent from the committee – briefly during the morning interval on Up Helly Aa day at the end of January.
The committee said it will be "hosting future hop parties outwith the school from 2019 and on, as part of their long term process of moving the junior Up Helly Aa festival arrangements away from the school to an independent group."