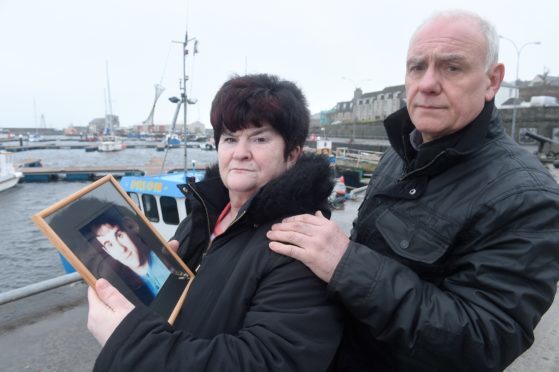 The family of a man whose body was recovered from Wick Harbour have appealed for the local community's help on the 21st anniversary of his death.
Kevin Mcleod, an electrician, was last seen in the early hours of February 8, 1997, as he enjoyed a night out with friends in the Caithness town.
His body was recovered from the sea the following day.
Marking the 21st anniversary of his death, his family joined police in urging anyone in the local community who may have information to come forward.
In a statement, the family said: "Kevin's horrific and untimely death has torn our family apart.
"We firmly believe that there are people within Wick and the wider community who perhaps witnessed, know what happened, or know who was involved in Kevin's death.
"At the time – perhaps due to a sense of loyalty, friendship, or fear – some people may not have come forward.
"We would urge and beg anyone who has any information, regardless how insignificant it may appear, to please search your heart and conscience.
"Please now do the right thing and contact Police Scotland, who are currently undertaking an investigation, to at last end our nightmare in the hope that justice will prevail and that our beautiful son Kevin can finally rest in peace."
Detective Superintendent James Smith from Police Scotland Major Investigation Team, said: "Kevin's family have been left with a 21-year search for answers and I have nothing but the highest admiration for the strength they continue to show.
"The anniversary each year, must be difficult for them all, and my thoughts are firmly with them at this time.
"We are currently gathering and assessing information that has been brought to our attention recently. This a detailed and complex piece of work, to ensure all information is thoroughly explored.
"That work continues with experienced Detectives from Police Scotland's Homicide Governance and Review Department currently carrying out inquiries in and around the Wick area.
"I want to reassure Kevin's family and the communities of Wick, and the surrounding area that Police Scotland is fully committed to thoroughly investigating any new evidence which may come to light.
"I would urge anyone in both Wick and the wider area who may have any information they feel could help our investigations to please come forward."
Anyone with information should contact Police Scotland on 101 or Crimestoppers on 0800 555 111.