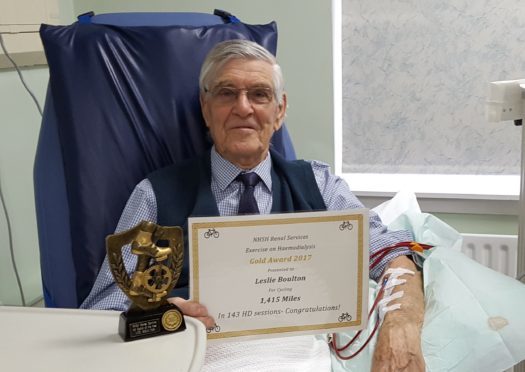 An 89-year-old kidney dialysis patient has been awarded for his commitment to taking part in a specialist cycling exercise programme while receiving treatment.
Les Boulton has been on dialysis for nine years, and has fully embraced exercise while on haemodialysis at Raigmore Hospital – becoming the longest serving cyclist at the renal dialysis unit.
Last year, he cycled 1415 miles across 143 haemodialysis (HD) sessions – which is just shy of cycling from John O'Groats to Lands End and back again.
Patients are given a stationary pedal exercise machine which allows them to cycle while receiving dialysis.
Mr Boulton, from Nairn, said: "I do it for the fun of it. Ironically in spite of having a hip problem when I'm lying down to cycle it's very comfortable. I'm most grateful for this recognition."
There is a clear body of evidence showing a number of significant benefits for renal patients to undertake regular exercise.
Linda McDougall, renal physiotherapist for NHS Highland, said the programme has been running for 10 years.
She said: "Like many long term conditions, the effects of chronic kidney disease can have a significant impact on cardiovascular fitness, muscle strength and bone density which, over time, can effect individuals' physical function, levels of independence and ultimately quality of life.
"For these reasons regular exercise is as essential for these individuals as it is for the general population.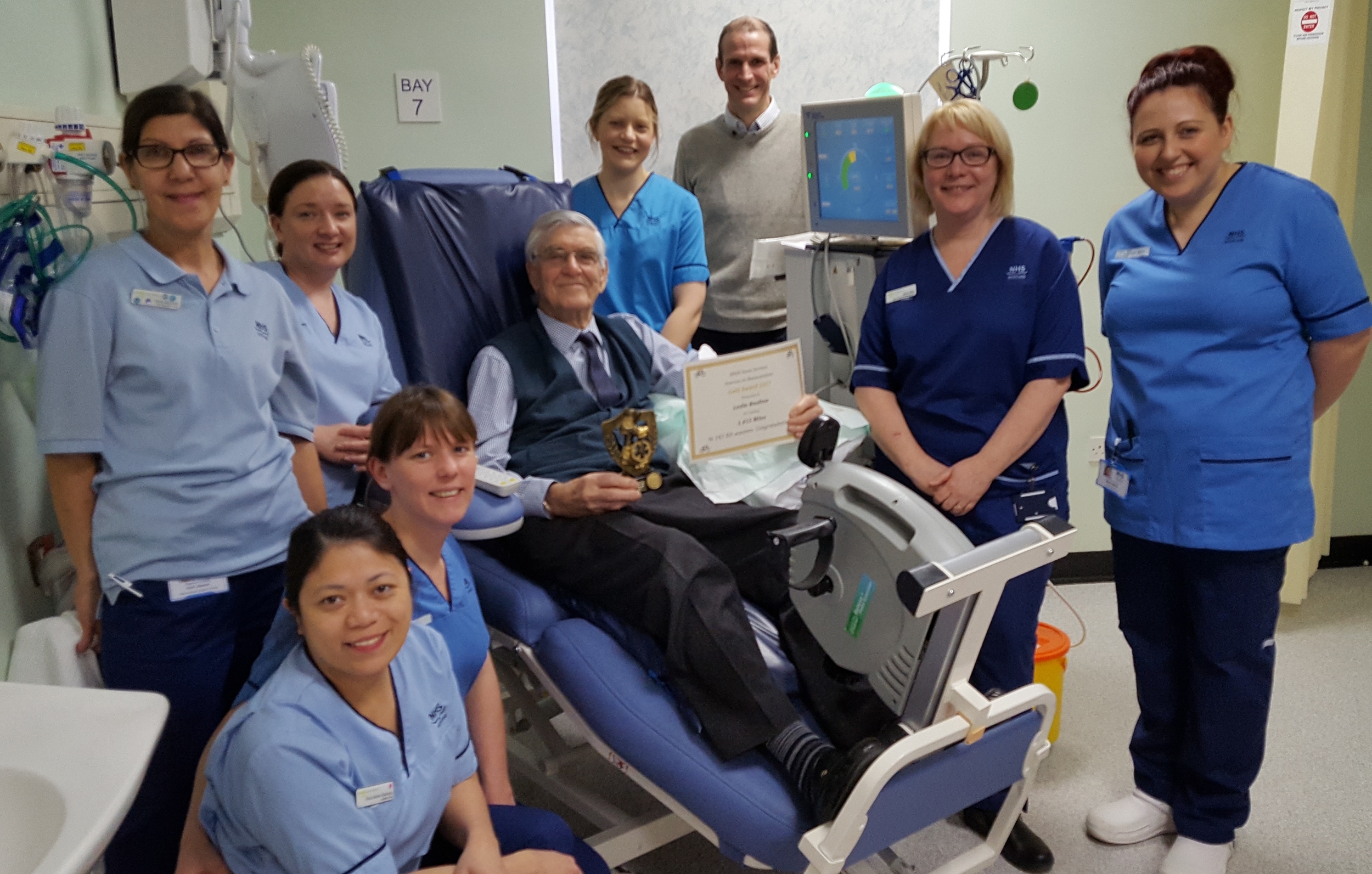 "For patients on haemodialysis however it can be hard to fit regular exercise sessions around their haemodialysis sessions which are hugely time consuming and tiring.
"Providing the opportunity to exercise while on haemodialysis allows patients to exercise in a regular and safe manner and take an active role in maintaining their fitness levels."
There are about 20 patients registered on the programme within the HD units at Raigmore and Belford Hospital in Fort William.
Ms McDougall paid tribute to Mr Boulton, and said: "Les is an inspiration to the other patients and also to us as staff. He really does deserve this recognition."