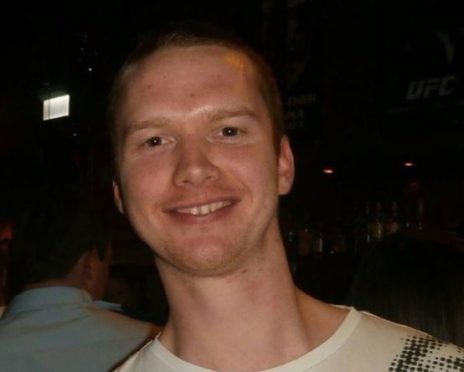 A hunt has been launched to find an Inverness man missing in Germany while on his brother's stag weekend.
Postman and part-time singer Liam Colgan was last seen in the early hours of Saturday in Hamburg city centre.
The 29-year-old – who friends say is "well-travelled" – organised the trip for his brother Eamonn in his role as best man.
But when he failed to turn up for a football tournament on Saturday, the worried group raised the alarm with police.
The stag party also launched an international appeal on social media in a bid to find the popular musician, described by friends as being "quiet and unassuming".
Alan Pearson, a close family friend who was part of the stag party, said: "This is really out of character for Liam to disappear at all, and we are really worried for him.
"Liam organised the whole trip to Germany for the stag party for his brother Eamonn, who is due to marry his fiancee Susan next month in Inverness.
"Liam is quite well travelled, having spent time in Australia and travelling across Europe, so this is why it is surprising he has not managed to find his way back to us."
The bulk of the 18-strong group who travelled to Germany on Friday returned homel as night, leaving just Mr Colgan's brother, father and brother-in-law in Hamburg to liaise with police.
Speaking on behalf of Mr Colgan's family – including mum and dad Patricia and Brian – Mr Pearson added: "We are really concerned for his well-being. This is not like Liam.
"He organised the whole weekend and we really started becoming concerned when he failed to turn up for a five-a-side football get-together he himself had arranged.
"This is so unlike him."
A Facebook page called Help Find Liam Colgan has now been set up, with his basic details already shared more than 1,000 times.
Mr Colgan is described as being 6ft with ginger hair. When he was last seen in the Hamborger Veermaster bar, he was wearing a brown leather jacket and a grey hoodie.
The Facebook page adds: "Liam is the best man for his brother Eamonn Colgan and is responsible for organising the stag do to Hamburg, Germany.
"Eamonn is due to marry his fiancee Susan in three weeks time back in Scotland so we are launching an urgent appeal to find Liam."
A police spokeswoman confirmed they were "liaising" with Mr Colgan's family in Inverness, adding the investigation was being conducted by colleagues in Germany.
A spokesman for Hamburg Police confirmed a missing person inquiry was being carried out.
A Foreign Office spokeswoman said: "We are in contact with the German police after a British man was reported missing in Hamburg, Germany, and are providing advice and assistance to his family."