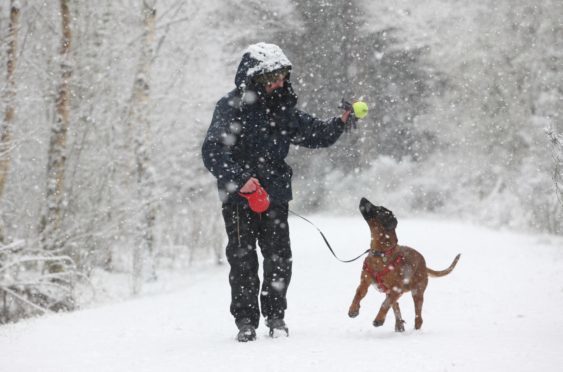 Thousands of skiers from across the country flocked to Scotland's popular ski resorts at the weekend – with more snow on the way.
Ski centres have recorded almost 7,000 skiers taking to the slopes on Saturday and Sunday.
Both the Cairngorms and the Lecht reported high levels of visitors with other 2,500 skiers descending on their hills.
Pat Mathieson, from the Lecht, said it had provided a much needed boost following a tough year.
She said: "We have had about 2,500 people this weekend. Last year was such a disaster so it's great to have such a busy weekend. Everything is working again and everyone is having fun; it's great."
As the latest band of snow swept across the country, conditions in Fort William became slippery with Nevis Range Mountain Resort reporting large scale tailbacks as a result of the conditions.
Chris O'Brian, commercial manager for Nevis Range, added: "Due to their being no gritter we had a small amount of congestion on the A82 and some difficulty for cars to get by.
"The police arrived and encouraged the council to come along and grit the roads. The council came out and the road was cleared within 10 minutes and we now have 1,000 or so people on the hill having the time of their lives."
Last night, forecasters said the cold snap is set to continue across the north and north-east through the early part of the week.
Stuart Brooks, a forecaster for the Met Office, said: "It will be a cold week with long snow spells to look out for on Tuesday and Wednesday.
"There will be snow showers at times, with more on the ground because of morning showers (on Monday).
"In some parts there will be snow on the ground in the majority of most places by Tuesday morning, all experiencing a high risk of ice as well.
"A band of rain will sweep in over the west on Wednesday with snow as it spreads in from the West Midlands. This will last a bit longer through the day with tricky conditions and on higher routes.
He added: "In Grampian it's going to be a cold start to the day today, a wintry start with icy patches. On Tuesday there will be a good deal of snow with showers from western parts.
"Wednesday will be wet and windy with strong winds and outbreaks of rain and the potential for some persistent wintry showers."