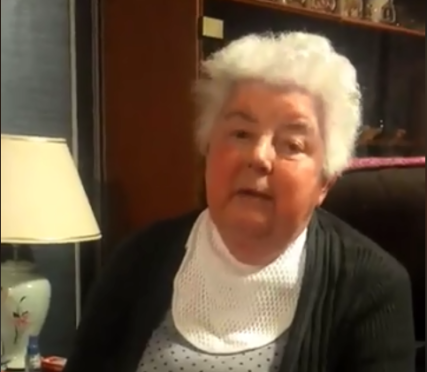 A Caithness pensioner who has been travelling to Inverness for her hospital appointments has delivered a heartfelt message to first minister Nicola Sturgeon and health secretary Shona Robison.
Dorothy Anderson suffers from Myasthenia gravis and travels to Inverness at least once a month from her home in Thurso for treatment.
The 79-year-old gets up at 5am, spending an hour on a nebuliser before taking her medication before breakfast in preparation for the three-hour trip to Raigmore Hospital.
After an appointment lasting around 10 to 15 minutes, she would then have to wait for several hours before getting patient transport back to Thurso.
Her video was played to Shona Robison and has been viewed more than 20,000 times since being uploaded to social media. In it, she calls for a rethink over the continued centralisation of health services.
Referring to Ms Sturgeon, Ms Robison and NHS Highland chief executive Elaine Mead, she said: "Would any of them be happy to let their mother or their granny travel in a train – if it's going – for four and a half hours, or in a bus – if it doesn't break down half way?
"I would just like them to come to my house any time and have a chat. I could tell them so many stories."
Watch the video below:
Hi folks,When Mrs Dorothy Anderson from Thurso heard we were meeting the Health Minister she wanted to send her a message. I recorded the following video in her house. The video was shown to Shona Robison and the others present at the meeting.For the last year this incredibly brave woman has had to travel to Inverness at least once a month, getting up at 5am spending an hour on a nebuliser then take medication an hour before breakfast so that she would be ready for the patient transport that took her to Raigmore. About 3 hours later she arrived at the hospital. Her appointment lasted 10 to 15 mins then she had to wait several hours until the patient transport took her back to Thurso.She should have had an hour on the nebuliser in the afternoon but obviously missed that and arrived home exhausted.The video is short but sends a powerful message and I would defy anyone not to be moved by it. It is not very loud but we played in over a loudspeaker so everyone in the room heard it.

Posted by Ron Gunn on Saturday, 10 February 2018