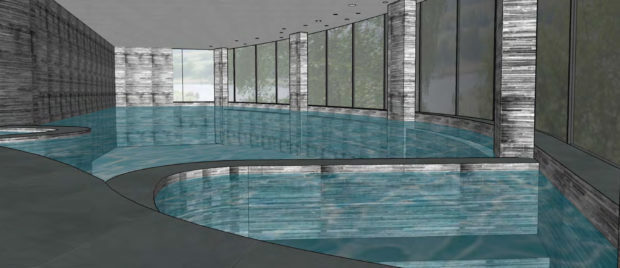 Plans for a spa and swimming pool at a historic Sutherland castle have been lodged with Highland Council.
Carbisdale Castle, which had operated as a youth hostel for decades before lying vacant for several years, was purchased in 2016 by a privately-owned London-based investment firm.
The FCFM Group has said it intends to restore the 40-bedroom castle near Ardgay, in Sutherland, "to its former glory as a world-class private residence".
The company was last year awarded outline permission to revamp the B-Listed building, but have now moved its intentions forward by seeking full planning consent to install a spa area in the existing basement space, with a pool to be built under the castle's terrace.
According to the plans lodged, the spa area, with gym and jacuzzi, will be finished with a combination of dressed sandstone and natural stone tiles, with a bronze handrail to the spiral steps.
The swimming pool would have sliding glazed panels and will enjoy views of the Kyle of Sutherland. The lights would be concealed within the depth of a suspended ceiling.
Carbisdale is the last castle to be built in Scotland and was constructed between 1906 and 1917 for Mary Caroline, Dowager Duchess of Sutherland.
In a story that has passed into legend, it has always been said that it was built so that the Dowager Duchess could literally look down on her late husband's family if they passed by.
While claiming the castle would be for "private residence", FCFM has announced it is planning a number of tourism projects aimed at attracting visitors to the area.
Bothy accommodation and a campsite are proposed for the grounds of the castle, as well as an interpretation centre focused on the Battle of Carbisdale in 1650.
And the castle's dilapidated tennis courts are set to be renovated, and would be open to the public.
A spokesman for FCFM said: "Plans for the castle grounds focus on bringing tourists to the area and providing jobs for locals.
"That will hopefully build on other economic successes linked to the various initiatives driving tourists to the Highlands."
Said to be haunted by several ghosts, Carbisdale was purchased in 1933 by the Norwegian Salvesen family and during the Second World War was used as a refuge for the Norwegian royal family. In 1945 Captain Harold Salvesen gifted the castle to the Scottish Youth Hostel Association.
It was operated by the Scottish Youth Hostel Association until it closed in 2011 due to the growing costs of much-needed repairs to the listed building.
Carbisdale is the scene of the last battle of James Graham, the 1st Marquis of Montrose, in support of the Royalist cause.