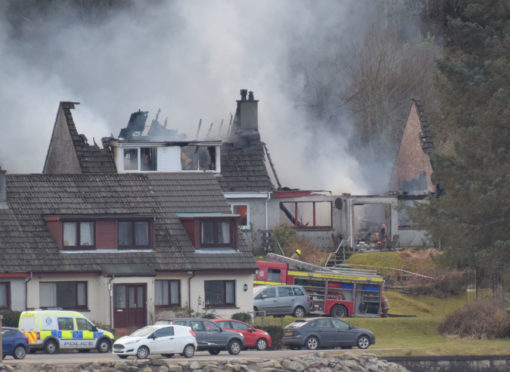 Two homes were completely destroyed yesterday after a blaze broke out in the Lochaber village of Ardgour.
The fire was believed to have been discovered by villagers who lived in one of the properties who raised the alarm shortly after 1.41pm.
The couple were understood to have travelled to Fort William and found the building up in flames when they returned home.
One of the roofs had collapsed and a passerby described the properties as being left "burnt to a shell."
Firefighters then battled for three hours to put out the flames which had spread to the home next door.
Two crews from Fort William as well as fire engines from Strontian and Lochline were scrambled to the scene.
Two of the teams would have needed to have taken a short ferry journey across Loch Linhe while the Lochaline appliance had to drive about 30 miles to get to the remote location.
They arrived to find the buildings up in flames.
No one was believed to be inside the semi-detached homes when the fire took hold. Firefighters moved two cylinders away from the blaze to make the area safe.
The fire service was still in attendance after 6pm last night dampening down the flames.
A structural engineer was also called out to check the building.
The Scottish Fire and Rescue Service confirmed yesterday that the houses had been "engulfed" in flames.
The village of Ardgour is about 10 miles south of Fort William and can be accessed by travelling across Loch Linhe on a ferry from Corran.
It is the second fire in Lochaber in as many days after a domestic oil tank went up in flames in Fort William on Wednesday.