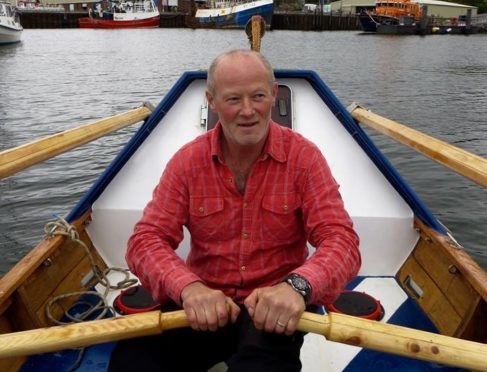 A hardy Highlander plans to row 3,400 miles across the Atlantic Ocean from New York to his home village of Lochinver.
Duncan Hutchison, 52, will set off on his epic solo adventure from the United States on May 20 in a 23ft boat he built himself.
He is raising money for international charity WaterAid, which provides people with clean water in 37 countries across Africa, Asia, Central America and the Pacific region.
Mr Hutchison was inspired to help the charity after his daughter Franci, 23, spent a year in Malawi with street children at a rehabilitation centre, where she witnessed first hand some of the projects volunteers are involved in.
He said: "We take clean water for granted and I thought it would be really good to do it for WaterAid.
"I think it will be really difficult but it is doable. I am preparing well for it. I do a lot of rowing on the machines while I'm offshore. I try to do 20km a night."
The physical and psychological challenges he will face on this adventure, rowing about 12 hours each day, will be huge. He estimates the journey will take between 90 and 100 days.
Mr Hutchison said: "Most people who do things like this have money behind them. I wanted to show you can do it without much money, that normal people can do things like this."
It took him around a year to build the boat in between work trips and cost him £1,000 to build, plus an extra £15,000 to fit it out with all the necessary equipment.
He said: "People buy these boats for up to £70,000, I have made my own from marine ply."
The title of his challenge is Duncanadrift and people can donate on his fundraising page duncanadrift.com
Franci Hutchison said: "I have always been very proud of my dad, his adventurous spirit and willingness to stand alone in the wilderness. He is a very inspiring man and will always do his best to help others and tests his limits and comfort zone through raising money for good causes.
"Having lived and worked in Malawi with street children at a rehabilitation centre a number of years ago, I have been witness to the fantastic projects WaterAid have coordinated in third-world countries."