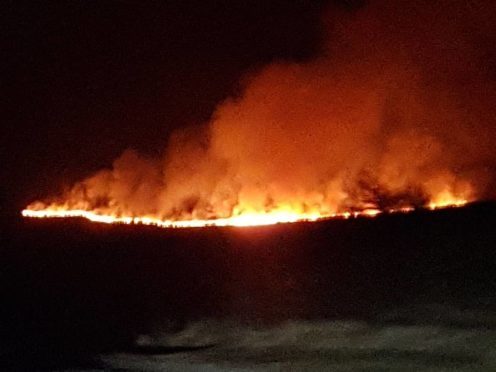 Firefighters were last night still battling a huge wildfire in the north of Skye on the same day a community on Barra rallied to bring three wildfires under control.
About 30 firefighters worked tirelessly throughout yesterday to combat the huge blaze at Edinbane, a few miles northwest of Portree.
Several wildfires developed in the area at the weekend as controlled burning of rough grass and heather by hill farmers was fanned out by winds in dry conditions.
A fire service spokesman said that the wildfire – which spread into a forestry plantation –  had a two mile front at its height.
And more than 60 people – local firemen, coastguards, lifeboat volunteers and other islanders – battled three separate fires in Barra from Saturday night into Sunday morning.
Western Isles MP Angus MacNeil, who lives on Barra and helped fight the fire, said that the front was about a mile wide at its height, adding: "The firefighters were magnificent and took the fire head on. It must have come within a 100 yards of the buildings.
"In the distance the flames were about 8ft high on the hill. It may have been snowing elsewhere in the country but it has been cold and dry here – real tinder box conditions.
"There were over 60 people involved in helping put it out – there was a real community effort, without which things could have been a lot worse."
The fires on Barra were reported at 7.38pm and 11.15pm on Saturday night and at 5.40am yesterday. It is understood they were brought under control by about 9am.
Another fire service spokesman said a nearby property was evacuated but stressed there was "no threat to livestock or properties".
Fire crews from Portree, Dunvegan, Uig, Broadford, Kyle, Staffin and Inverness have all been involved in tackling the fire at Edinbane since the call came in at 7.48pm on Saturday night.
A worker at the Edinbane Inn also provided food for the firefighters during the day.
On Friday, firefighters were also called to a six-acre blaze in an area off the A858 Staffin Road near Portree. Crews were also called to battle a 50-acre wildfire the same day at Camasnacroise in Lochaber, while another blaze with a two-mile front also broke out near Lochboisdale on South Uist.