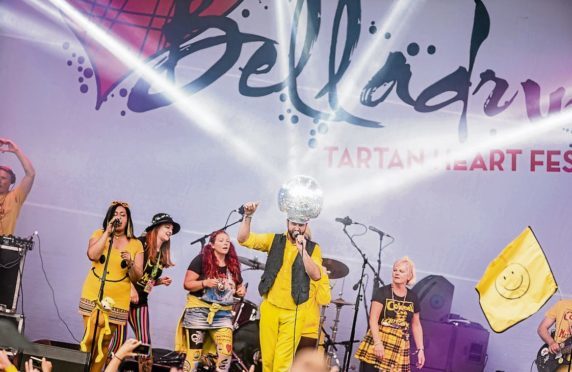 Top acts and the enduring friendliness and charm of the annual Belladrum music festival have led to a rise in ticket sales.
Five months ahead of the popular four-day family Tartan Heart Festival, which takes place near Beauly, adult tickets for the Saturday festivities have already sold out.
Tickets went on sale in September and organisers said the public have this year been very quick to snap them up in their thousands to see acts such as Paloma Faith.
She has been hailed as the "perfect" act for the event, while Frightened Rabbit are making their first appearance at a festival that similarly seems perfect for them.
Dougie Brown, one of the organisers, said "We are ahead of last year's sales and at this time they are higher than we have seen them in the last couple of years.
"It's not just the line-up that sells tickets, it's the essence that is more important to a lot of people.
"Belladrum is a lot more than just a hugely popular festival. It has all the extra insights. It's the whole feel of the festival and the Belladrum audience are loyal to the event."
In addition to adult tickets, campervan and caravan passes for the event have also all but disappeared.
The festival takes place from August 2 until August 4, with headlining acts including Paloma Faith, Amy MacDonald and Frightened Rabbit as well as Lucy Spraggan, The Charlatans and Rosanne Cash.
Mr Brown added: "We have a line up we are all really proud of.
"This year we have Paloma Faith, Amy MacDonald and Frightened Rabbit, a successful Scottish Indie rock band. 15 years into the festival and we have never had them.
"Paloma Faith in a lot of ways is the perfect Belladrum headliner. She's a great pop star, singer and she is quirky and that's the thing that Belladrum has. She really is the perfect fit for us this year."