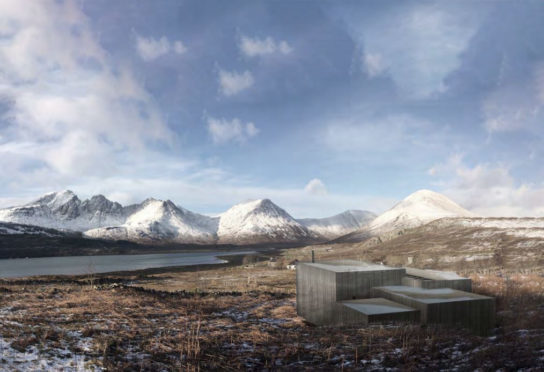 A desperately-needed £25million is being invested to build 200 social homes in Skye and Lochalsh – a move which aims to eliminate homelessness in the communities.
The area faces major pressures on its housing stock, in particular Skye which has experienced a massive boom in tourism and seen many properties used as holiday homes and second homes.
Now Lochalsh and Skye Housing Association has approved its five-year business plan which will see 200 homes completed by 2023.
Chief executive Lachie MacDonald said: "We have always had a problem with lack of available accommodation in the summer months when the tourists are here.
"There has always been a clearing out of people from private lets at this time of year, which are then busy for tourism purposes from April to October. There is no doubt there has been intense pressure there. In the last few years there has been an incredible increase in tourism in Skye and Lochaber."
Already 44 properties are under construction, or being purchased, and a further 70 houses and flats will start this year.
Projects already underway include 24 houses at Broadford and 13 at Kyle of Lochalsh. The association is in the process of buying seven houses at Balmacara from the National Trust for Scotland.
In the period from April to December last year, 81 people on Skye were registered as homeless.
Mr MacDonald said: "This is a massive and unprecedented investment in Skye and Lochalsh and, in addition to being excellent news for jobs in the construction industry, it demonstrates our commitment to meeting the housing needs of individuals and families in the area as quickly as possible.
"We believe that the best approach to dealing with housing need pressures is to increase the supply of housing and our development programme will certainly achieve that aim.
"We very much welcome the tremendous support and backing we are receiving from The Scottish Government, Highland Council and our lenders which we believe will allow us to achieve our ambition of eliminating homelessness in Skye and Lochalsh.
"We will be providing new affordable rented homes for those in priority need including those affected by overcrowding, damp, temporary and poorly repaired properties."
Kate Forbes, MSP for Skye, Lochaber and Badenoch, said: "This is much needed investment in housing stock on Skye. There is an enormous need for affordable homes on Skye and so I'm delighted to see the Scottish Government, Highland Council and other lenders working together to supply a whopping £25million of investment for housing.
"Across the Highlands, there is far too wide a gap between housing prices and income levels. That is exacerbated on Skye with the high number of second homes and holiday homes. "Homelessness is rising and people are either struggling to stay or struggling to move to Skye.
"It goes without saying that the economy and the public sector both depend on human beings, and if they don't have anywhere to live then businesses will close and public services will struggle.
"The most pressing need across the Highlands is affordable housing – it tops my caselist and crops up frequently in conversations. The value of this investment and the number of  houses planned recognises the scale of the challenge. Lochalsh and Skye Housing Association do a tremendous job already for Skye residents and this next phase of investment is vitally important."