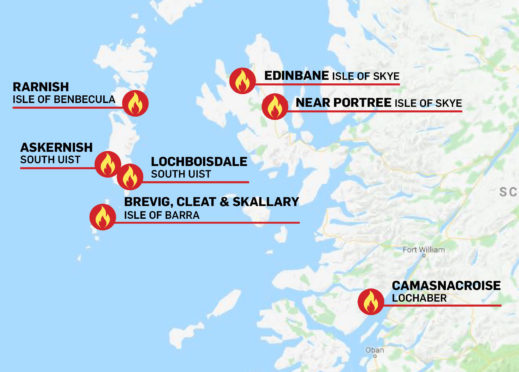 The Scottish Crofting Federation has urged crofters who practice muir burning to take extra care after several recent fires spread out of control in dry and windy conditions.
The SCF has suggested that common grazings committees review their muir burning plans to make sure it is in line with the newly updated Muirburn Code.
Muir-burning is practised by hill farmers and land managers to burn off rough, hill grasses and long, mature heather to improve grazing for sheep and grouse.
It comes after more than 30 firefighters battled for over 24 hours to stop a blaze with a two mile front in the north of Skye. And fire crews joined coastguard teams and islanders to put out three separate fires in Barra just hours before.
Wildfires have also broken out north of Portree in Skye, in an area of southwest Lochaber and in the islands of South Uist and Benbecula.
Yesterday, SCF vice-chairwoman Yvonne White said: "Burning off the heather in a carefully controlled manner is an essential part of managing hill grazing.
"Burning heather allows it to regenerate providing food and access. If the hill was not burnt then the heather would be waist high and woody, and the habitat would be poorer for all – livestock, wild animals and humans.
"There have been several cases of fires getting out of control lately. In some areas conditions have been difficult with very dry ground and erratic winds.
"Errors happen, you can misjudge the wind and the situation can change very quickly. I suggest that common grazings committees should review their Muirburn plan to make sure it is up-to-date as a new code has been issued."
Some of the developments in the new version of the code include specific guidance for burning for grazing and greater emphasis on the potential role of cutting in addition to – and as a replacement – to burning.
The code is supported by supplementary information which provides more detail on topics such as muir burn planning, ignition patterns and techniques and fire control equipment
The code also states burning should not take place on peatland, unless being done as part of a peatland restoration plan approved by Scottish Natural Heritage.
Under cross compliance, recipients of the Basic Payment Scheme – financial and practical support for farmers and crofters –  have to meet requirements of Good Agricultural and Environment Conditions, some of which relate to the Muirburn Code.
Ms White said that the new code is both "practical and informative."