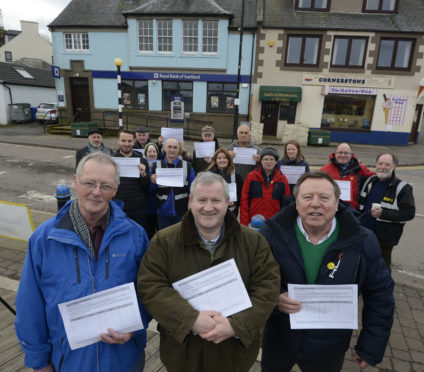 Protests took place throughout the Highlands at the weekend in towns and villages which are facing the loss of their local RBS branches.
Rallies were held in Mallaig, Nairn, Inveraray and Campbeltown as part of the SNP's national "day of action".
Thousands of signatures were collected on petitions asking the RBS to reverse its decision to close branches across the country.
A total of 62 branches are facing closure, but a stay of execution has been granted for 10 of these until the end of 2018.
This should be extended to the other 52, according to Ian Blackford, leader of the SNP's Westminster Group.
Mr Blackford, MP for Ross, Skye and Lochaber, was speaking at the protest in Mallaig on Saturday, where the branch is set to close in June.
He said: "I know that the RBS branch in Mallaig is very well used and I was delighted at the support given to the campaign to halt its closure and that of others.
"The response we have had in Mallaig makes it clear that this branch is not only well used by local people who have accounts in the bank,  but also by the tens of thousands of holidaymakers who pass through the village every year.
"It is time RBS realised just how important these branches are to the often remote areas in which they are situated, listen to the people and think again about the gravity of what they are proposing.
"Our actions so far have resulted in a stay of execution for ten branches until the end of 2018. Two of these, Beauly and Kyle are in my constituency and an independent review of their usage is now under way.
"I am sure it will show what people in these communities already know – the branches are well-used and important assets not be lost.
"This review should be extended to the other 52 branches under threat."
A spokesman for RBS responded that more customers were choosing to do their banking online.
He said: "The decision to close branches is a difficult one and we understand this change can be hard for some customers.
"We are fully focused on engaging with our customers and communities before these branches close, and we will be hosting events throughout Scotland highlighting all of the ways our customers can bank with us."