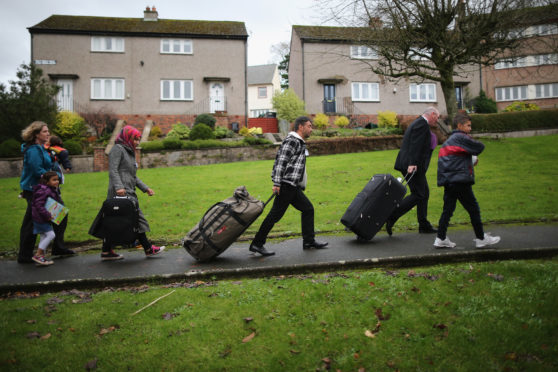 A young refugee has revealed touching details about his new life – and warm welcome – on a Hebridean island for the first time.
The 17-year-old, who writes under his first name Anas, was resettled from Syria along with his family in Stornoway just over one year ago and since spoken about the highs and lows of his new life.
Remarking upon the moments before his arrival on the island, he admits he was worried if people would accept him and his religious beliefs.
In a blog post published by Cosla, the umbrella authority for councils, the teenager said: "From the time when I have been told I have to travel to Stornoway the first thing that came to my mind was "where is that?" Then they told me it is in Scotland, well, all I know about Scotland is it is a part the UK and it is so cold there. I didn't even think that Stornoway is on an island in the middle of the Atlantic.
"Lots of things started coming to me, bad ideas, how the people will be there, what the houses look like and even how the people look. For me it was an unknown place. The most important thing I was thinking about is how people will deal with me with my family, especially the women in my family they wear the Hijab and it is something strange for the people where I am going to."
His family were relocated as part of the Scottish Government's refugee integration and resettlement programme in response to the war in Syria.
Six families have so far been welcomes onto the island.
Anas says the community holds nothing but respect for him and his loved ones saying: "All the people here accepted us, they make our integration with them much easier. Most of the people didn't even ask why our ladies are wearing the hijab, all you can hear is "Full respect man". What I've seen here is so different from I thought, in good way."
Stornoway councillor Ian M MacAulay said: "Locals have made them feel very welcome and there has been a lot of positive responses from the general public. I have spoken with them several times as they are living within my ward and they are lovely people. They are obviously settling in very well and most of them are dying to get the certificates they need to work and for their English so they can work in the community. All and all it's been a positive experience on both sides."