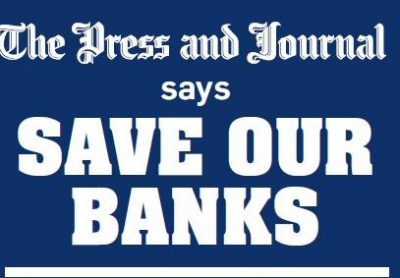 A wide-ranging study is to be carried out into the impact of impending bank closures across the north.
Highlands and Islands Enterprise (HIE) has commissioned the survey to not only investigate the closures but also the wider issues of the social and economic importance of access to local banks.
The study has been welcomed by north MP Ian Blackford, who is spearheading a campaign to save banks under threat in rural areas, particularly those announced earlier this year by RBS.
Residents in 14 communities across the region are being asked to take part in the online survey on rural banking services.
It will be used to gather feedback from a broad range of individual households, businesses and community groups, particularly in areas expected to be affected by the closures.
HIE has commissioned Indigo House Group to carry out the work as part of a wider study into access to local banks.
Mr Blackford said: "I welcome this move by HIE as I am concerned about the impact on people, many of them elderly, in rural areas having inadequate banking services.
"The latest round of closures announced will mean residents and businesses in many areas, such as in Mallaig and Kyle, will have their nearest branch more than an hour away.
"These rural locations also rely on tourism and not to have easy access to banks will have an impact on visitors."
Carroll Buxton, HIE's director of regional development, said: "Rural communities around the Highlands and Islands are generally ambitious about their plans for growth, both in their local economy and their population.
"The removal of some local bank branches can present additional challenges in realising these ambitions.
"Factors such as access to business finance, and the ability to deposit and withdraw cash are fundamental to many local clubs and societies as well as businesses and social enterprises.
"It is important for us to fully understand, from those directly affected, how important rural banking services are, and to look at how else these services might be provided, particularly in the context of rural branch closures.
"The findings of this study will be important in informing how we and our partners go about helping communities achieve their ambitions for growth and resilience."
Business, innovation and energy minister Paul Wheelhouse added: "We know how important local banking services are to individuals, businesses, and other groups in rural areas and support all efforts to ensure that essential banking services are preserved.
"We hope that the banking sector will take note of the survey and its findings, and listen to the views of local communities when developing the future plans for their rural services.
"We are continuing to engage with the banks to ensure that everything possible is being done for customers, local communities and staff."