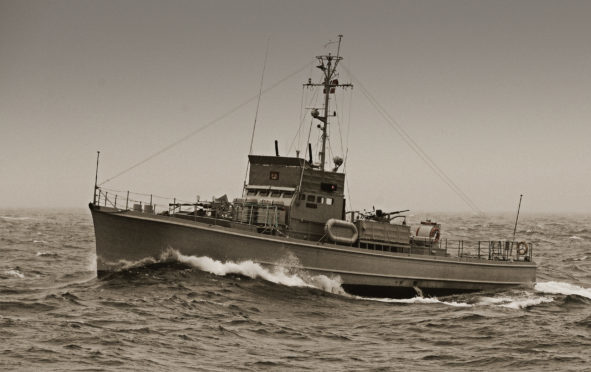 Under cover of darkness, a small fleet of fishing vessels made its way out of secret harbours on Shetland for a journey even more hazardous than the hardy sailors were used to.
They ran without lights for fear of being bombed by German planes, torpedoed by U-boats or sunk by the German naval fleet, or of capture near their destination on the Norwegian coast.
Those risks were endured by the crews of the Shetland Bus operation to offer ammunition, radios and other vital supplies to the Norwegian resistance movement and rescue civilians and operatives.
There was significant loss of life until, in 1943, three fast and heavily-armed American sub-chasers joined the fleet.
The operation was one of the most heroic actions of the World War II and two historic wartime vessels are to set sail to the north east next month in celebration of the 75th anniversary of its most pivotal year.
The Norwegian tall ship Statsraad Lehmkuhl and restored sub-chaser Hitra will both travel across the North Sea to Scalloway to take part in a poignant ceremony marking the momentous connections between Shetland and Norway.
On board the Statsraad Lehmkuhl will be members of a Norwegian veteran's group, many of whom have direct family links to the wartime operation, as well as the Mayor of Bergen, commanding officers from the Haakonsvern Naval Base near Bergen and the Commandant of Bergenhaus Castle.
Around 140 Norwegians in all will join Shetland islanders for the gathering, with a number of events scheduled to take place, including a talk by Norwegian historian Asgeir Ueland, a concert in the public hall and a wreath-laying ceremony that will commemorate the fallen.
Charles Grant, a member of the Shetland Bus Friendship Society, said: "1943 was a milestone year for the Shetland Bus.
"A fleet of three American sub-chasers came to run the operation. They were faster and more effective and after that there was no more loss of life. They ran from 1943 to 1945."
Mr Grant said he was looking forward to the anniversary celebrations.
"The Norwegians really enjoy it when they come to Shetland," he said.
"There will be bus tours to go on and two concerts. It's going to be a pretty full event and an intense two days but one we are looking forward to."
William Moor, Trustee of the Shetland Bus Friendship Society added: "It comes to be the 75th anniversary of the end of phase one of the Shetland Bus. We want to keep the memory alive."
The cooperation of the Shetland people was vital to maintaining sea links and supply lines to Norway.
Local engineers and carpenters converted and then kept running the fishing boats on which the Norwegian sailors made their night runs, while temporary homes were provided in harbour towns and villages for the sailors.
The effort forged relationships that will be celebrated next month.