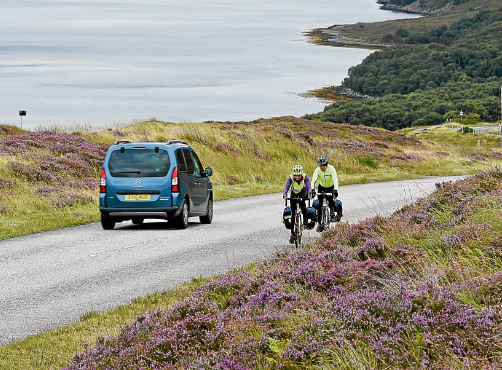 The organiser of a petition calling on Highland Council to reverse the threat of closure of public toilets on Scotland's answer to America's Route 66 says he is "staggered" after it attracted more than 2,500 supporters in a week.
The protest is centred on nine toilets in Sutherland on the NC500 drive.
Kinlochbervie Community Councillor Gary Sutherland launched the protest after Highland Council agreed in February to review the operation of its public conveniences as part of plans to close a £15m budget gap.
In its first day the online petition had topped 700 signatures and by today it had exceeded 2,500 – including more than 200 who had signed the protest sheet in shops etc.
Mr Sutherland said the petition would continue for a couple more weeks before it is handed in to Highland Council.
"The strength of feeling over this is staggering but it just shows how people feel about this. The comments left by people are also very interesting. It is has been signed by both locals and visitors to the area," said Mr Sutherland.
"We are quite impressed by who has signed it. The views of visitors should be taken especially into account as well as delivery drivers and those who drive emergency service vehicles. We hope the petition helps make Highland Council change its mind."
Mr Sutherland said public toilets at Achmelvich, Kinlochbervie, Rhiconich, Scourie, Smoo Cave, Lairg, Kylesku, Talmine, and Tarbet were all at risk of being shut – or limited to seasonal opening.
"The total estimated savings come to just £67,000 per year yet we consider these to be essential services, both for local people and tourists and others visiting the area," he claimed.
"These closures will discriminate against the elderly, infirm, disabled, and those with long-term illnesses whose ability to do without a regular rest break is impaired.
"The money the council will save from this is a spit in the ocean of their budget – yet the public health problems it will cause are huge.
"Do the decent thing, Highland Council: Scrap your plans to close these public toilets."
Among the comments left by supporters include:"We want to welcome people to spend their pounds on the NC500, it must be easy for them to spend a penny too."
A spokesperson for Highland Council said it was not about closing toilets but introducing charges and working with communities to look at ways they may take over running of some of the facilities – such as the comfort scheme already in place in certain areas of the Highlands.
But critics say the suggestions ar "impractical and presumptuous".