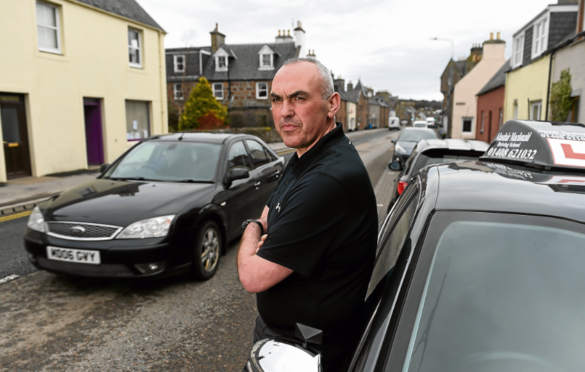 A Highland village has been ranked the best place in the UK to pass your driving test.
More than 77% of learners who sat a practical exam in Golspie, Sutherland, between April 2017 and this January were able to ditch their learner plates straight afterwards – including some travelling up from London looking for what they hoped would be an easy pass.
New figures from the Driver and Vehicle Standards Agency (DVSA) have revealed that this is the highest proportion in the country – and this despite a drop from the Golspie's 82.1% success rate in 2016-17.
At the other end of the scale, the town of Erith in Kent suffered the worst pass rate in the UK at 30.3%, while Grantown-on-Spey fared the worst in the north and north-east of Scotland with 49.1%.
Overall, the UK average for the period sits at 46.6%, while the north and north-east average is 62%.
Below Golspie, Mallaig and Orkney make up the remainder of the top three on the leaderboard for the north and north-east, while Inverness Cradlehall and Broadford join Grantown at the bottom.
A P&J reporter, and seasoned driver, sat a mock driving test in Golspie – how did he get on?
Golspie driving instructor Alasdair Macdonald regularly fields calls from clients in London who want to travel to the Highlands to sit their test, but thinks the conditions are just as tough as more built-up areas.
He said: "The perception is that it's easier because it's a village and there's nothing up here – with no dual carriageway and no hazards – but I don't get that.
"The junctions are much tighter and there are tight bends as well. You have to go through more hazardous areas than somewhere like Inverness.
"Some people think that they just give the driving licences away here, but the level of driving is very good compared to standards elsewhere."
Simon Williams from motoring firm RAC said: "In rural areas you may also have a larger proportion of people who are more experienced drivers due to the fact they have been driving legally off-road on farms for some time, making them more likely to pass.
"Some may also argue that it is easier to pass the test in more rural areas where there is less traffic and fewer roundabouts and traffic lights to contend with.
"Regardless of this, the driving test is designed to test the skills of all drivers fairly, preparing them to drive in any environment, urban or rural."
Aberdeen's two test centres both made it into the top five "most improved" for the last year.
The Bridge of Don pass rate rose from 49.8% to 57.1%, while the Cove centre jumped from 53.8% to 59.6%.
Instructor Keith Nisbet, who taught two learners sitting their tests in the city yesterday, said: "Both centres have got new examiners and they make you at ease, which is possibly part of it.
"As much as you tell learners 'they're not going to bite you,' whether they believe it is another thing.
"But from what I've seen in the last year they are employing new examiners who are coming across friendlier and I think it is because of their training."