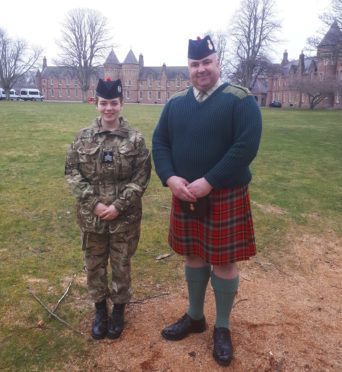 An Inverness air cadet has made history by becoming the first Senior Drum Major for the Forces Pipe Band – despite being told that she would never make it.
Sergeant Georgi McMinn, 17, of 161 – 1st Highland Squadron, Inverness, has become the first air cadet to undertake the roll in the Cadet Force Pipes and Drums, in time for the RAF's centenary.
Now more than two years after joining the band, Sgt McMinn is now paving the way for Air Cadets across the country.
She said: "I was really chuffed when I was told by Major Ross Munro at Redford Barracks. I was always told that I would never be senior Drum Major because I am an Air Cadet, it just didn't happen and it wasn't going to be the case.
"I always said 'I am going to do it'. I never let it get in the way and when I was told I was over the moon. I haven't felt nervous about it yet, not really had reservations about it. It's felt like a long time coming."
During the training camp being held at Cameron Barracks this week, she spoke about how cadets has changed her as a person and helped her strive for this prestigious role.
She added: "My confidence has soared. From being put on that Drum Majors Course two years ago, thrown into the deep end, I would never ever have said that it would be me at the front. I maybe would have liked it but I didn't think I ever would have done it.
"It was nice being in the drum majors but I always wanted to do more and when I was up there and I was told I was taking the lead, I was very very nervous, but now I have gone up and done it, it feels like the most natural thing in the world so I'm so excited about it. Cadets has 100 per cent changed me for the better. I can't image not being a part of all of this."
National Cadet Piping and Drumming Executive Officer, Major Ross Munro added: "In the Tri Service Forum, we now have a drum major that is absolutely ready for it. This is her third year as Drum Major so she knows what she is doing; certainly, the experience of the Highland Military Tattoo, with the other bands. It just made perfect sense to appoint her Senior Drum Major and it makes it even better with this year being RAF 100th Anniversary; to now having an Air Training Corps person in front and it just made absolute perfect sense."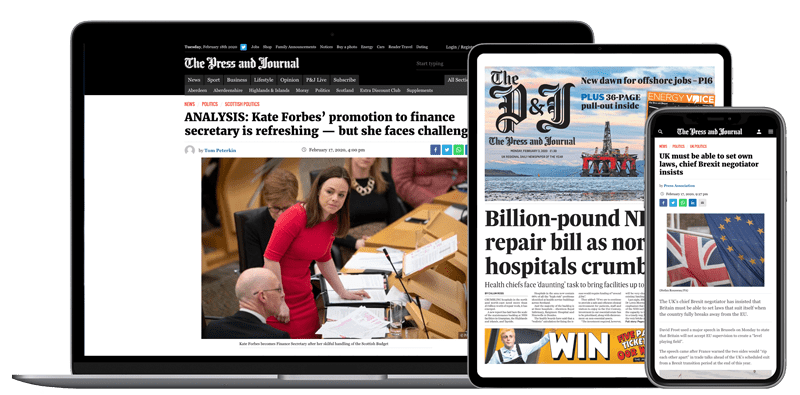 Help support quality local journalism … become a digital subscriber to The Press and Journal
For as little as £5.99 a month you can access all of our content, including Premium articles.
Subscribe