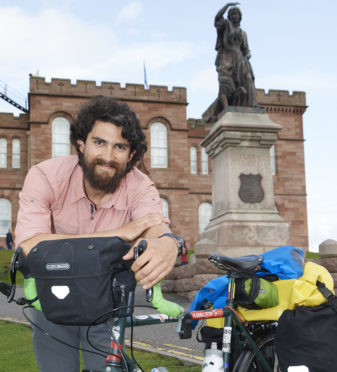 A new campaign has been launched to urge motorists on the NC500 to give "litter a lift" in their cars.
The week long inititive, which will start on May 12, was prompted by concerns that the scenic route was becoming blighted by rubbish.
Tourism groups have thrown their weight behind the idea and it is hoped that businesses will now come on board by displaying posters as well as handing out leaflets and car litter bags.
Adverts will run on local radio stations and motorists will be encouraged to take selfies of themselves carrying bags of their own litter in cars to help raise awareness.
Tom Campbell, Managing Director of the North Coast 500, said: "We hope that, by working with Keep Scotland Beautiful, we can encourage drivers to take responsibility for their litter – helping to preserve this iconic landscape and continue to attract increased visitor numbers."
Georgina Massouraki, roadside litter campaign officer at the Keep Scotland Beautiful environmental charity, said litter strewn across the countryside caused problems.
She said: "This campaign is an excellent opportunity to reach out to road users and remind them to be considerate and take responsibility for their litter when travelling across our beautiful country.
"Roadside litter is difficult, dangerous and costly to clean up and throwing litter from your vehicle is an inexcusable and illegal habit.
"The message is simple 'give your litter a lift, take it home'."
The creation of the North Coast 500 route has been welcomed for triggering a surge in tourism generating more than £10million for the economy.
However, there have been complaints about increasing visitor numbers putting a strain on local roads which have been hit with potholes.
Other issues have also been raised, including problems with increasing numbers of vehicles parked in towns and villages and inexperienced drivers travelling on the route.