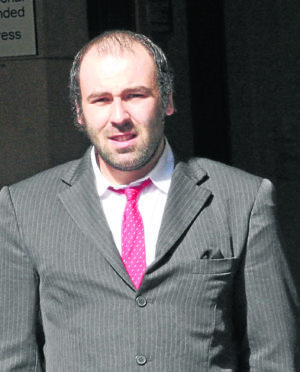 A driver was yesterday cleared of causing the death of a friend whose car "barrel-rolled" through the air and smashed into an unmarked police vehicle in a horror crash on a Highland road.
The Crown had alleged that Tony McPhee, 27, had taken part in a road race with Dean Meiklejohn after the men had left work in Caithness.
But a jury at the High Court in Edinburgh unanimously found McPhee not guilty of causing the death of Mr Meiklejohn on April 14, 2016, on the A9 road near Thurso.
He had denied driving at excessive speed and engaging in a road race with Mr Meiklejohn who had overtaken him, but lost control of his Ford Fiesta car, which became airborne and collided with other vehicles.
Ambulance staff who arrived at the crash scene found 26-year-old Mr Meiklejohn, who had not been wearing a seatbelt, had suffered head injuries and was dead.
The court heard that the dead man had previously been convicted of careless driving and driving without insurance.
PC Neil Irving, 45, who was a collision investigator at the time, said they had concluded that Mr Meikjlejohn had lost control of his Ford Fiesta at a bend in the road and that it was highly likely it had occurred because of excessive speed.
The officer said that the bend can be safely negotiated at the national speed limit of 60 mph but they were unable to estimate what speed he was travelling at.
The Fiesta had hit a verge and came back towards the road. PC Irving said: "At some point the vehicle has been launched and it has become airborne." Part of the drive shaft of the Ford car was later found in a garden further north after it became detached and struck another vehicle.
The officer agreed that McPhee's vehicle had come to a controlled stop near to the scene and that there was no damage to his car.
Police sergeant Laura Kermode, 38, who was working as a detective at the time, was returning to Inverness from Scrabster in an unmarked police Nissan Qashqai when she came upon the Ford which she said appeared to be out of control.
She added: "The vehicle, in my terminology, barrel-rolled in the air and landed on top of my vehicle. It crashed into me."
The officer said that as it was happening she aware of "something orange" to the rear of the vehicle. She said she then realised it was a person in hi-viz clothing.
She said it was difficult to get out of her car but asked others to contact emergency services.
One of the first officers to respond to the crash, PC Alexander Brooks, 39, said he had spoken to ground worker McPhee who appeared quite shocked.
McPhee, of Calder Square, Castletown, told the constable that he had worked on the same site as Mr Meiklejohn and as he was nearing Thurso his friend had overtaken his Vauxhall Vectra.
He said he had been driving at about 60 mph, meaning Mr Meiklejohn had been doing 70mph or 80mph or maybe even more.
Plant operator Steven Shaw, 27, of Inverness, who had also been working at the site for a new sub station being constructed outside Thurso, later told police that the two men had been "winding each other up" during tea breaks about racing in their cars.
However, he said he remembered seeing Mr Meiklejohn as they were leaving the site adding that he had asked him if he was going for a race and he said no as Tony did not want to race him any more.