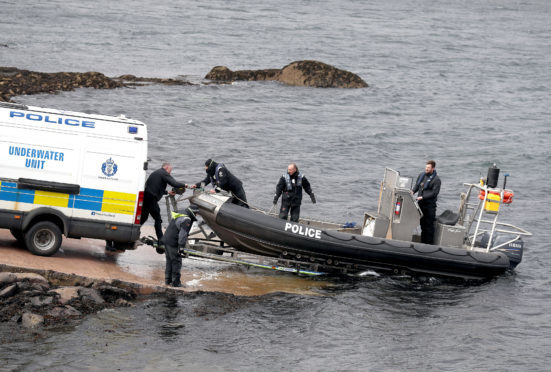 An attempt to lift the fishing boat Nancy Glen and recover the bodies of two missing crewmen was under way on Loch Fyne last night.
Police divers were at the scene of the wreck along with the lifting barge near Barmore Island just outside Tarbert harbour in Argyll.
The bodies of Skipper Duncan MacDougall, 46, and crewman Przemek Krawczyk, 38, are believed to be trapped aboard.
The prawn trawler came to rest at 460ft deep after sinking while returning to its home port on January 18.
Following a fundraising campaign by the Clyde Fishermen's Trust to "Bring Our Boys Home" the Scottish Government agreed to cover the costs of the salvage operation, which are in the region of £1million.
A government spokesman said last night: "This continues to be a complex task with a number of technical challenges, meaning there is no guarantee of success. We are in close contact with the families and are keeping them updated as the recovery progresses."
A police spokeswoman added: "Inquiries are ongoing."
The decision by the Scottish Government lift the boat means that all of the money raised by the campaign can go to support the men's families and the survivor, John Miller, who was rescued from the sea by a fish farm boat.
There has been a huge outpouring of support from the local community following the tragedy, with individual donations and fundraising events raising a total in the region of £300,000.
A candlelit vigil took place by the harbourside, with a large candle left burning on the quay to stay lit until the men were returned to their families.
In a post on social media, Gosia Krawczyk, the wife of Mr Krawczyk, said her five-year-old daughter Mia gazes at the stars every night begging for her father to return home.
It is understood that if the lift is successful, the Nancy Glen will be taken away from Tarbert on the barge.
A spokesman for the Marine Accident Investigation Branch said: "It is welcome news that the operation to recover the bodies of skipper Duncan MacDougall and crewman Przemek Krawczyk from FV Nancy Glen is nearing completion. The branch does not have any inspectors on scene, and currently has no intention of inspecting the wreck as part of its ongoing investigation."