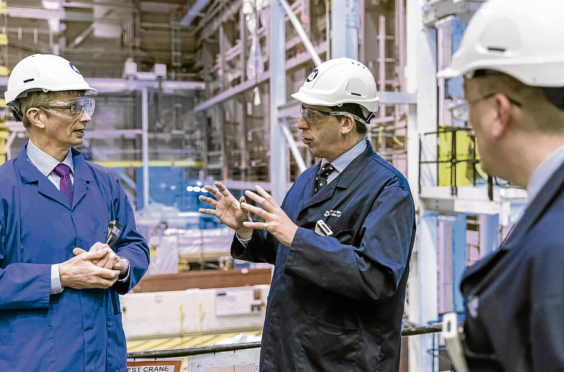 The growth of tourism in the far north will pave the way for a bright future in the region's economy after the demise of the Dounreay nuclear power plant, according to a UK Government minister.
Lord Ian Duncan, the under-Secretary of State for Scotland, claimed the north of Scotland was fast becoming a beacon to the world in being a leader in tourism, decommissioning technology and heritage.
He pledged his support to promote the far north during a whistle-stop tour of Caithness and Sutherland this week.
Lord Duncan said he was impressed with the growing popularity of the North Coast 500 tourist route, particularly in promoting the history and archaeology of the massive area it covers.
He told The Press and Journal: "Many people believe the Highlands stops at Inverness, which is certainly not the case.
"There is so much more in the north and tourism initiatives such as the NC500 are helping to highlight that.
"But we also have to remember that Dounreay is not yet an empty shell and still employs thousands of people during the decommissioning of the site – which will continue for the next couple of decades.
"The north of Scotland is showing it is leading the way in not only science and technology in the decommissioning process, but also tourism.
"There is so much to hope for in the region after Dounreay, but we have to remember that the site is making technological advances which are proving to be a model and template to European partners.
"But Dounreay will ultimately come to an end and I believe tourism will pave a way for a bright future after the nuclear site finally closes."
The minister added: "There are so many ways to travel north now so the message is, if you are going to London or Edinburgh, don't stop there but go up to the top of Scotland and explore what it has.
"We want to create it as a global brand.
"When you look at the area there is a whole evolution of global energy. You have peatlands, mills, nuclear, decommissioning, oil and gas and windfarms."
His schedule included visiting not only Dounreay, but the Caithness Broch project, Dunrobin Castle, Dornoch, and an old mill at John O'Groats.
Caithness councillor Matthew Reiss welcomed the comments from Lord Duncan, adding: "He is quite right in saying the region has a unique blend of energy and tourism., while we also enjoy a mix of archaeology, birdwatching, fishing and so much more.
"The Flow Country peatlands are also one of the world's biggest attractions that should be more widely known."