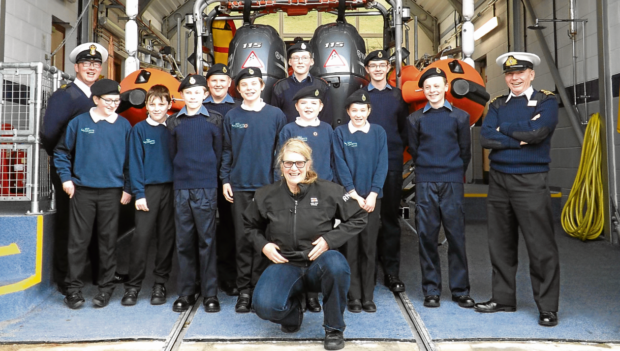 Inverness Sea Cadets have been learning the ropes at the Highland's newest lifeboat station as RNLI volunteers at the Loch Ness base celebrated their 10th anniversary.
Ten cadets from the city's squadron, based on Kessock Road, visited RNLI Loch Ness to learn the skills needed to save lives on the water.
They were taught a number of vital first aid skills, practiced tying knots, and delved into the history of the lifeboat and its many callouts as well as being given an insight into the dangers the job poses.
The visit comes just weeks after the crew moved into their new station at Temple Pier, near Drumnadrochit, following a £2.7 million upgrade.
The past 12 months have been the busiest ever recorded for the RNLI volunteers, with the crew responding to 33 call-outs in 2017.
Lieutenant Commander Robbie Hay said: "We enjoyed a tour of the boat station and we got some ropes out to do some knots.
"We talked about first aid and how to spot dangers on the beach.
"First aid is an important part of the syllabus. It's not just for cadets. It's part of the big world.
"There is a perception with some of the cadets that when they walk out through the gate they switch from cadet life to street life and they don't see the connection.
"To show them the wider scope of the things we are teaching them is really good.
"We are building up the awareness of the risks involved on the water and at sea and making them aware of what we do.
"It can be risky but if we do it right it will be safe."
Linda Izquierdo-Ross, a crew member and education and community officer said: "I told our visitors about the history of the lifeboat and what we are all about.
"The lifeboat crew have responded to 188 shouts in 10 years and I showed the cadets a video of a number of lifeboat station shouts.
"They were interested in everything nautical and anything to do with lifesaving and were very interested, knowledgeable and hard working.
"It was a joy to have them visit us."