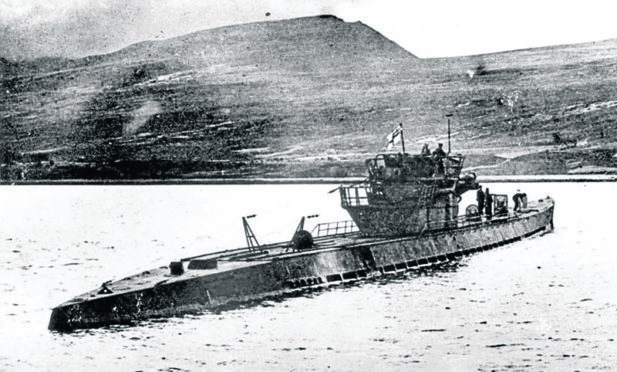 Its full place in wartime history has been shrouded in mystery for more than 70 years.
But now more details of the secret surrender of 33 U-boats in a Scottish loch – which finally brought peace again to the waters of the Atlantic – have been revealed in a new book.
Over 12 days in the ten-mile long sea inlet in Sutherland, the biggest single surrender of the once-feared German U-Boat fleet took place.
Author David Hird in his new and updated edition of The Grey Wolves of Eriboll reveals that the 33 U-Boats that ended up in the loch sunk or damaged 59 merchant ships and 14 warships – comprising over 300,000 tons of shipping.
The loch was not only the only Scottish rendezvous point for U-boats to give up the war – but it was the biggest single surrender gathering of the fleet anywhere in the world. Some had even come from Norway and Japan – flying tattered black flags from their periscopes – to yield.
Nobody was more relieved than Prime Minister Winston Churchill, who once wrote:"The only thing that really frightened me during the war was the U-Boat peril".
They were all disarmed within hours – with explosives, torpedo firing pistols and other items just dumped over the side. They were then sent on to other locations – like Lochalsh in Wester Ross – where their crews were disembarked.
Then under Operation Deadlight the U-Boats were scuttled in the Atlantic.
Now in The Grey Wolves of Eriboll, Mr Hird has told the story of the secret mass surrender with new insights, including many personal memories of those who witnessed the events as well as the career histories of the U-Boat commanders.
Loch Eriboll's attraction as the reception port for their final capitulation was its isolation and its safe, deep-water anchorage – ideal for the arrival of armed U-boats that might still be intent on one last show of defiance.
As it was Mr Hird, who lives at Dalchalm in Sutherland, says there was only one incident when U295 rammed a Canadian escort ship, HMCS Nene, punching a hole in the starboard side. The U-Boat captain claimed it was an accident.
News of the momentous surrender was heavily censored – nothing appeared in the local press. Locals were told to keep quiet.
Mr Hird, a retired acting returning officer from Yorkshire, said:"There were considerable crew numbers. Each U-boat had between 30 and 50 crew. The crews were happy to surrender in Scotland. It was the Russians they were worried about – they just didn't want to give-up to them. They feared for their lives.
"The disarming was quite incredible. Stuff was just dumped there and then over the side."