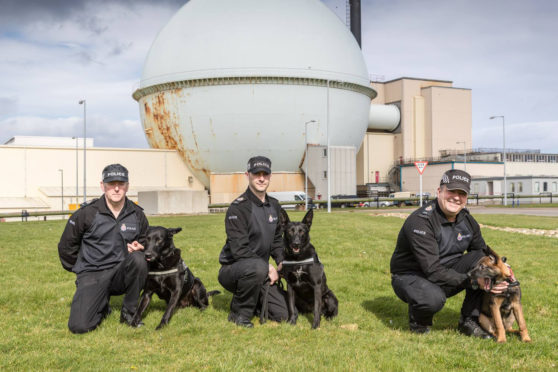 When there is a big employer in the area, families often work together – and it seems dogs are no exception.
Three generations of the same police dog family are now working at Dounreay.
It has often been said that generations of the same families have worked at the Caithness site and now that is certainly true for Civil Nuclear Constabulary police dogs Vader – who is head of the family – his daughter Tess and puppy Jaxx, his grandson.
All are busy patrolling around the Caithness site which is being decommissioned at a cost of £2.32bn.
The dogs are all Malinois, sometimes classified as a variety of the Belgian Shepherd dog rather than as a separate breed. The name "Malinois" is derived from Malines, the French name for the breed's Flemish city of origin, Mechelen.
The breed is used as a working dog for tasks including detection of odours such as explosives, accelerants – for arson investigation – narcotics, tracking humans and search and rescue missions. The U.S. Secret Service uses Belgian Malinois to guard the grounds of the White House.
A spokesman for the Civil Nuclear Constabulary said: "We are delighted to welcome Jaxx into the CNC family.
"He joined us this week to work at Dounreay alongside his grandad Vader and auntie Tess, who between them have already served with distinction at Dounreay for many years.
"Jaxx is already showing he has great potential and is enthusiastic to learn.
"While it is not uncommon to find two or three generations of the same family working at Dounreay, this is the first time we've ever had three generations of the same canine family working for the CNC."