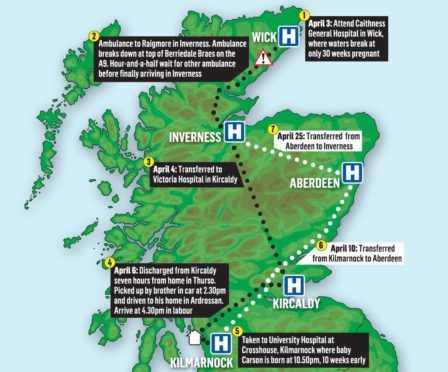 When Cassandra Mcphee went into premature labour at 30 weeks in her Caithness home, she knew she faced a long journey for the care she needed.
But the expectant mother, from Thurso, could not have foreseen the 663-mile journey – taking in five hospitals – that she would have to endure.
Ms Mcphee's nightmare trip from Wick which saw her travelling to Inverness, Kircaldy, Ardrossan, Kilmarnock and Aberdeen before finally returning to the Highland capital, began with the ambulance breaking down on the A9.
Ms Mcphee said the midwives, nurses and ambulance staff were "brilliant," but added: "It is just shocking what pregnant women have to put up with living up here. It is an actual joke. Something needs to be done up here. God knows how far we've travelled distance wise and still got to travel 110 miles when he's finally well enough to get back home."
She is the second Caithness mother in a week forced to travel hundreds of miles to give birth.
Ms McPhee went to Caithness General in Wick on April 3 and was taken to Raigmore by ambulance – although she suffered a wait of an hour and a half at Berriedale after the vehicle broke down.
From there, she went to Kirkcaldy to make sure a cot was available in case she gave birth early. But there was no change and on April 6 she was discharged from hospital to home.
She planned to stay the night with her brother in Ardrossan, planning to head back to Thurso the following day.
But by the time they got to his home, she was in labour and rushed to hospital in Kilmarnock where baby Carson was born 10 weeks early.
On April 10 they were transferred to hospital in Aberdeen where they stayed for 15 days until Wednesday, when they were finally returned to Raigmore, where Carson is still being treated.
Ron Gunn, vice chairman of Caithness Health Action Team, said: "It is unbelievable what this poor woman went through. This is the second case in a few days of a mother travelling round the country trying to find somewhere to have her baby.
"It really has to stop. The bottom line is they should not have to be travelling to Inverness to be told there is no room there."
A spokesman for NHS Highland said that there is a limitation to capacity but added: "Last year, out of the 2,011 women who delivered in Raigmore, 12 women had to be transferred to make use of the national neonatal facilities network.
"On rare occasions the SCBU in Raigmore can be 'at capacity' which can result in mums to be, or mums and babies being transferred out with Highland.
"While SCBU has the facility to stabilise emergencies even when busy, there is then a clear pathway and criteria in place in terms transferring patients using the national retrieval team to the closest available unit. This ensures that mums and babies are taken to a place where they are getting the most appropriate care."
A Scottish Government spokeswoman said: "It is vital that all pregnant women in Scotland – including those in remote and rural locations – receive safe, high quality service.
"There may be times in all areas of Scotland when, due to medical complications or peaks in demand, women and babies are required to travel to ensure the best possible care. Our Scotland-wide network of special care baby units ensures both mothers and babies requiring additional care receive it in high quality units most suitable for their needs, from our most experienced staff.
"We would expect that when mothers and babies are transferred for care, they are returned to their closest unit as soon as safely possible."
A spokesman for the ambulance service added: "We would like to apologise to Mrs McPhee and her family for the delay in transporting her to hospital – we always prioritise the safety of individual patients and on this occasion we deemed that the safest means of transport was by road.
"Midway through the journey, due to a mechanical issue, the ambulance was unable to continue and we dispatched an alternative vehicle to ensure Mrs McPhee could be transported onwards to Raigmore."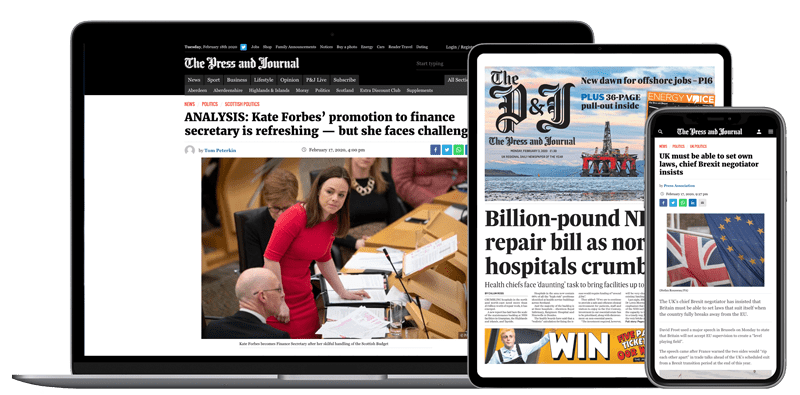 Help support quality local journalism … become a digital subscriber to The Press and Journal
For as little as £5.99 a month you can access all of our content, including Premium articles.
Subscribe