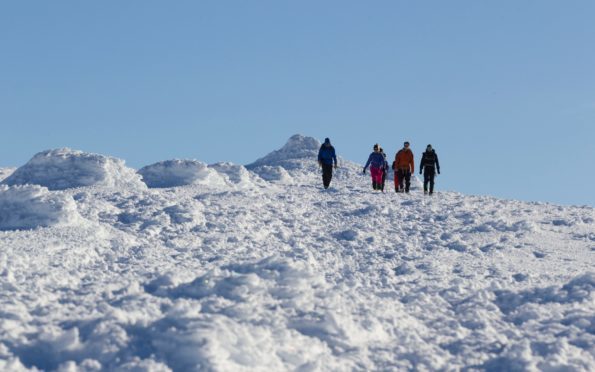 Scotland's main ski resort shut yesterday following "an amazing season" – leaving just one snow sports resort open.
Cairngorm Mountain near Aviemore is the fourth of the country's five winter resorts to close as the Scottish ski season melts away to one of its best in years.
Around 100 skiers and boarders were attracted to Cairngorm Mountain today for a last run and greeting them was two inches of fresh snow overnight.
The Lecht and Glenshee in Aberdeenshire and Nevis Range near Fort William have already shut – leaving just Glencoe Mountain open. It hopes to have enough snow to last until May 7.
A spokesman for Glencoe also said it had lots of fresh snow.
"We have three to four inches of fresh snow giving lovely sliding on top runs, a bit sticky on middle slopes – but will improve when skied in.
Runs have a good cover of granular spring snow, all mid mountain and most upper mountain runs still complete, but there are holes appearing care required on Mugs Alley. Great skiing and snowboarding for late April," he said.
Janette Janssen, general manager at Cairngorm Mountain, said:"It has been a fantastic and amazing season, but we are pushed to the limits of hanging on to the snow now.
"We just have The Ptarmigan run open today and the snow is very soft. Compared to last season there has been a massive difference. We started at the beginning of November and it has been a long and great season."
She added that the resort was investing in a new dry ski slope, extending the Ptarmigan building and possibly improved uplift before next season.
Andy Meldrum, chair of Ski Scotland, said that this winter was on course to be the best for the five resorts for five years.
It comes after one of the worst ever seasons for the Scottish centres.
Mr Meldrum said the season was on target to clock between 240,000 to 250,000 skier days – compared to just over 54,000 last year.
The season had been so good that Glencoe Mountain – which he runs – is now planning to purchase a snow making machine, which will guarantee skiing from December to May each year – even without natural snow.
The £400,000 cost includes £60,000 from a crowdfunder and help from Highlands and Islands Enterprise.
"We will be the first resort in Scotland to have a snow making machine permanently. It will make a massive difference and give people confidence to book their holidays, knowing they will be able to ski" said Mr Meldrum.
"It will massively improve the customer experience.
"As we have seen this year, if the conditions are there people will come in large numbers. We even have a growing market from Ireland because we had the conditions – particularly in January and February.
"We opened in November and this is our longest and best season. It has made it possible for us to buy the snow making machine. At Glencoe Mountain last year we managed just 32 days of operation – this year it will be more than 120 days. It has been a record breaking year for us.
"We have had a five-and-a-half month skiing season, you could not ask for more.
"The main lesson from this season is we have learned to manage the snow really well and create truly fantastic conditions. We have had some of the best bluebird days I've ever experienced in Scotland with blue skies, sunshine and fresh powder."
Nevis Range commercial manager Chris O'Brien said:"It's been a fantastic season so far with more than 30,000 skiers on the slopes. It's great to have had so many people up on the hill and more people coming from the UK."
Nevis Range recently revealed it had suffered badly from last season's poor conditions with profits plunging downhill.
Hit by a lack of snow and closed for 30 days because of high winds, Nevis Range, on Aonach Mor mountain, suffered its second worst winter since its 1989 opening, according to its annual results for the 12 months to the end of last October.
The season came to an "abrupt end" following a major thaw on March 29, with the resort having recorded a "dismal total" of 10,200 skier days, compared with 26,760 the previous year.
Across the five resorts, the number of skier days in 2015/16 was 207,770 compared to 230,634 for the previous winter and 235,191 in 2013/14.
The figures are still below 2009-2010 – one of the best on record – when almost 375,000 people hit the slopes.
Since then, Scotland's five snowsports areas have hosted more than two million skier days which have generated almost £182m for the national economy.
In 2010, Cairngorm Mountain remained open until June for the first time with hundreds of skiers trekking to the snow.